And yoga took the Plaza Mayor in Madrid
Entre 1.500 y 2.000 personas han asistido este pasado sábado en la Plaza Mayor a la clase de yoga al aire libre más multitudinaria de las celebradas hasta ahora en España, según los organizadores, Free Yoga by Oysho. Pero al final lo que importa no son los récords, sino que el yoga va formando parte de la normalidad en la vida de más y más personas.

"Vaya música… para dormirse", comentaba algún camarero de las terrazas atrapaturistas de la Plaza Mayor a los acordes de Krishna Das. Eran casi las 11:00 de la mañana y la explanada adoquinada de la plaza ya estaba sembrada de esterillas con muchas mujeres y bastantes hombres sentados y expectantes.
Lauren Imparato, la yoguini glamurosa de New York, estaba esperando la señal para empezar. Algunos madrileños -que somos un poco de todas partes pero más al sur que los barceloneses- solemos demorarnos en llegar a una cita un sábado de buena mañana, qué se va a hacer. O nos inscribimos en algo que es gratis y luego no vamos… Pero al final, llegamos casi todos y llenamos casi todo el espacio.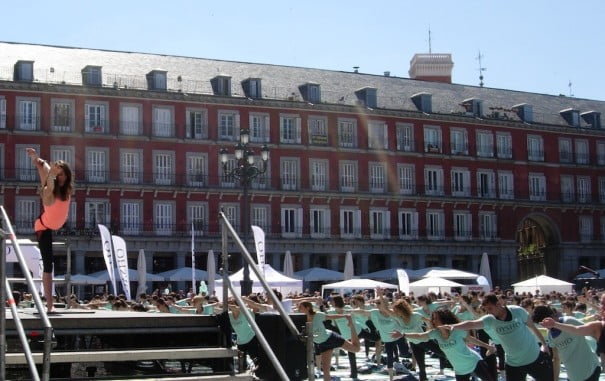 Poco antes de las 11:00 de la mañana la explanada de la Plaza Mayor -viejo escenario de actos tan radicalmente diferentes como autos de fe inquisitoriales y mítines políticos- estaba repleta de practicantes de yoga vestidos de azul cielo con la camiseta de la organización convocante, en silencio, al sol y deseosos de interiorizar nuestra práctica rodeados de la maravillosa energía colectiva del yoga.
Y arrancó por fin la clase de Lauren Imparato, en medio el silencio, el orden y la tranquilidad reinantes. Una sesión bien conducida de más de una hora de yoga dinámico ma non tropo, según dijo ella pero en perfecto castellano. Y empezó la coreografía, al ritmo de la música para despertar (no conciencias, sino mamuts adormilados) que marcaba el dj de Imparato.
Y enseguida se produjo el milagro del yoga.
That energy que va entrando y saliendo del cuerpo y el corazón de cada practicante y que se multiplica por cada uno de los presentes hasta llegar a todos los rincones de la gran plaza y seguro que de toda la ciudad…
Silencio respetuoso entre el público observador. La hermosa coreografía sigue su curso. Cada uno hace lo que puede, lo que sale, pero todos intentamos estar a la altura de ese poder que nos hace suyos, que desde fuera parece una gimnasia más pero que sin embargo exhala una ola de energía que sobrecoge, emociona y llena de respeto a quienes lo realizan y a quienes lo contemplan.
Gracias a los organizadores por permitirnos vivir la hermosa experiencia de compartir yoga en la ciudad.