The Christ of the abyss, meditating on the bottom of the sea
El Cristo del Abismo es el nombre por el que se conoce a esta maravillosa pieza escultural de Jesucristo creada por el artista italiano Guido Gallet.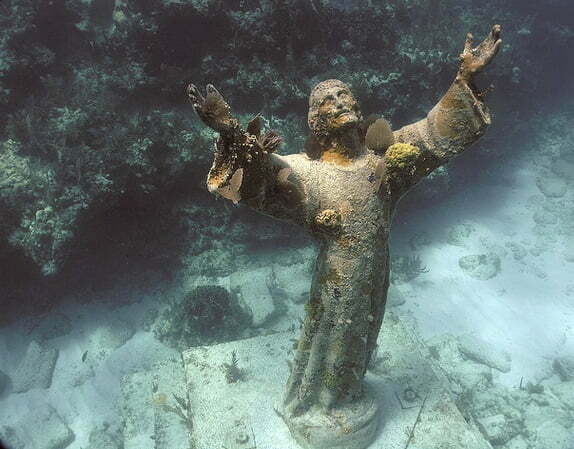 Está inspirado en la visión que tuvo Duilio Marcante, al que según dice se le apareció Jesús mientras meditaba bajo el agua.
Es una escultura de 2,5 metros que representa a Jesús pidiendo por la paz y la seguridad de todos los que cruzan los mares. Sus manos en actitud de súplica apuntan hacia el cielo.
El 22 de Agosto de 1954 la estatua se instaló a 15 metros de la Bahía de San Fructuoso, cercana a Génova, en Italia. El lugar es el mismo en el que falleció Dario Ganzatti, amigo de Duillio Marcante. Durante décadas más de tres millones de buzos han bajado y contemplado esta escultura submarina, meditando bajo el mar.