Only the sky is the limit
Matej Peljhan descubrió que fotografiar el mundo es una respuesta positiva de las inteligencias y que tiene poder para transformar el abrumador peso de un trauma. Por Koncha Pinós-Pey para Espacio MIMIND.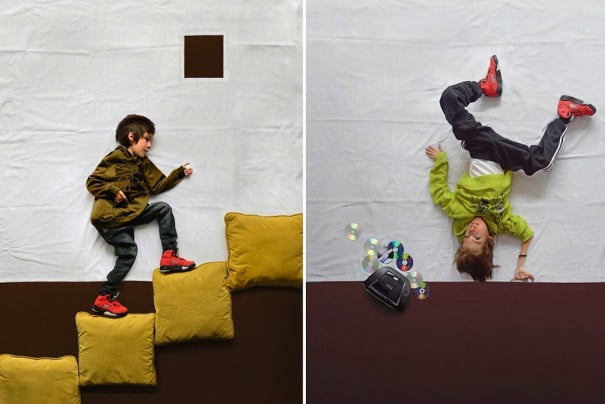 Matej Peljhan nació en 1967 y pasó su vida en una pequeña aldea en el valle de Vipana, en Eslovenia. Cuando jugaba con sus amigos tuvo un accidente con bombas enterradas de la II Guerra Mundial, perdió su brazo derecho y un ojo. Con muchas dificultades llegó a estudiar psicología en la Universidad de Ljubljana y decidió dedicarse a niños con necesidades especiales.
Para Matej, no hay límites en las inteligencias, o mejor: "Solo el cielo es el límite", me cuenta. Está interesado en la psicología, los deportes, las artes plásticas, y entre sus aficiones esta el triatlón. Se inició en la fotografía en 2009, y descubrió que es una respuesta positiva de las inteligencias para transformar el abrumador peso de un trauma.
A partir de diferentes géneros fotográficos, y debido en parte a sus conocimientos de psicología y a su particular manera de ver el mundo, Matej ha hecho de la fotografía conceptual una forma de capturar la mente humana. Capta imágenes sencillas, cotidianas, originales, llenas de contrastes y símbolos que cuentan historias y animan a la gente a pensar diferente y a vivir.

Hasta ahora se expuesto sus obras en más de 100 exposiciones de todo el mundo, y ha hecho un hermoso libro titulado Zagovor pdob (2011), que es una de las obras capitales de la filosofía de la fotografía contemplativa. Cree que la fotografía tiene que acercarse lo más posible a las personas con necesidades especiales y ha creado El Instituto de la Terapia Fotográfica, donde ofrece talleres y educa a otros en el campo de esta terapia basada en la realización de fotografías.
En su último trabajo ha usado la imaginación para plasmar los sueños de Luka, un niño de 12 años con distrofia muscular. Para ello dialogó terapéuticamente con Luka y así pudo saber lo que él anhelaba: verse caminando, bucear, correr… pero que no podía hacerlo.
Estas imágenes ilustran al niño explorando su mente y sus sueños. Va por Luka.
Koncha pines-Pey