Would you like to teach aerial Yoga? Get your dream reality
En este curso aprenderás a utilizar la hamaca del Yoga Aéreo como una herramienta más en tus clases, integrándola en tu propio estilo de práctica. Serás absolutamente fiel a la ancestral filosofía del yoga, evitarás el efectismo artificial y conservarás esa sensación de relajación, rejuvenecimiento y vitalidad que se obtiene en las auténticas clases de yoga.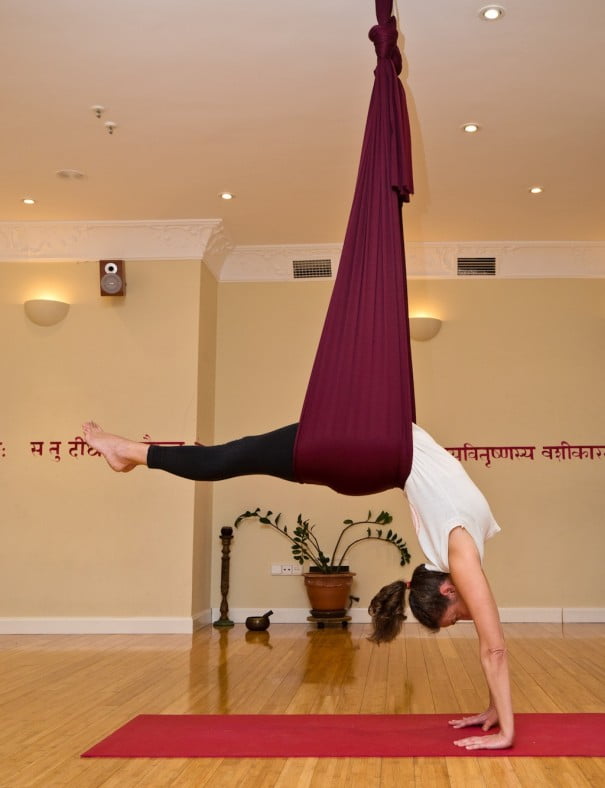 El Yoga Aéreo Unnata aspira a mantener el liderazgo en calidad en el recién creado campo de la enseñanza de yoga "en suspensión". Te invitamos a unirte a nuestra comunidad pionera de profesores innovadores, divertidos y sinceros.
Este curso no solo te enseñará qué hacer con la hamaca, también te aportará el por qué y el cómo hacerlo. Unnata es la palabra en sánscrito que significa "elevado", tanto en sentido espiritual como físico.
Cuando has entendido las razones por las que utilizar la tela como herramienta de práctica, tu curiosidad te llevará a experimentar y convertirte en tu propio guía para continuar explorando nuevas sensaciones, aunque bajo supervisión. Tus guiones de Yoga Aéreo Unnata® ayudarán a tus alumnos a continuar desplegando sus alas en el camino de autodescubrimiento que amorosamente llamamos yoga.
Contents of the course
Más de 100 asanas aéreas para empezar tu práctica y un número infinito de posibilidades surgidas de tu propia creatividad y de la creatividad de todos los instructores de Yoga Aéreo Unnata® en todo el mundo.

How safely to guide students in the entrance and exit of the asanas.
How to assist students with all kinds of shapes and capabilities.

Cómo integrar el uso de la hamaca en el concepto de yoga que has aprendido y practicado hasta ahora.

Cómo puede ayudar la hamaca a enseñar a los alumnos sobre la energía de los cuerpos sutiles para obtener una práctica de yoga realmente plena …
After graduation
El precio del curso incluye la licencia para impartir clases de Yoga Aéreo Unnata® durante dos años después del curso.

Renovación de licencia opcional cada año (no obligatoria).

Precio económico de renovación de licencia anual.




Sin royalties.

Tu información de contacto fácilmente accesible en las webs aerialyoga.com y yogasadhana.org

Continued support for aerial Yoga instructors Unnata® for any questions about safety, technical, marketing, fabrics, installation, etc.
® Unnata aerial Yoga has generated a reputation for quality in yoga instruction. In order to maintain the quality standards and for the limited license to teach material aerial Yoga Unnata® is mandatory to participate in 100% training (will be allowed partial attendance) and also the final exam must approve.
Curso dirigido por Montse Lominchar, primera profesora autorizada en formación de Yoga Aéreo Unnata, que comenzó su práctica de yoga hace 30 años y desde hace 10 años es profesora de yoga. Actualmente dirige el Centro Yogasadhana en Ciudad Real y colabora con Centroterapia en Madrid. Montse se formó como profesora de Unnata Yoga en Nueva York con Michelle Dortignac, fundadora y creadora del Yoga Aéreo Unnata.
Price: 990€
Oferta para matrículas antes del 31 de mayo: 750 € (25% de descuento!!!)
Place: Centro Yogasadhana, Ciudad Real – España
Primer centro en impartir formación en Yoga Aéreo Unnata® en español.