Humor yogic
En muchas de las clases que he asistido como alumno hay un elemento que no ha faltado: el juego, la broma sana, la anécdota tan divertida como aleccionadora, en suma, la armonía y el buen humor. Advertencia: la seriedad excesiva puede perjudicar el funcionamiento de las articulaciones. Y no lo digo en broma: he visto varios casos. Escribe Joaquín García Weil. Foto Victoriano Moreno.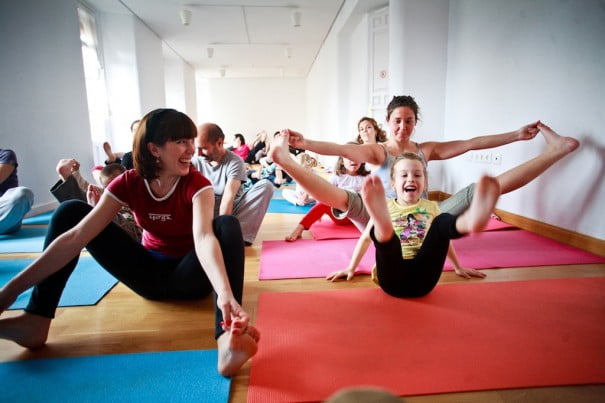 En la antigua China había un monje zen llamado "Maestro Cara de Palo". Jamás se le había visto insinuar una sonrisa. Un día, mientras comía, se le cayó un trozo de pan al suelo. Dos ratoncillos, uno blanco y otro negro, corrieron a disputárselo. El maestro zen, al ver aquello, estalló en una estruendosa carcajada que le hizo alcanzar el satori o iluminación. Y no me extraña porque la risa tiene un gran efecto liberador.
Técnicamente el pranayama natural que es la risa, puede definirse como una inhalación amplia seguida por una exhalación tipo "caña de bambú", que cae en cascada o segmentos marcados por la voz: ha, ha, ha…
Cuando alguien viene a probar una clase por vez primera, le pido que "saboree" la práctica del Yoga.
Según el Ayurveda, el sistema tradicional curativo de la India, nuestro cuerpo tiene un "sabor interior" cambiante según nuestro estado mental, emocional y físico. Esto se corresponde a lo que en nuestro idioma llamamos "momentos dulces", "personas saladas", "humor ácido", etc. También guarda relación con el hábito de compensar determinadas carencias emocionales a través de ciertos alimentos o sabores: sal, grasa, dulces…
También según el Ayurveda, los diversos órganos están en relación con determinados sabores: los riñones con lo salado, el hígado con lo amargo, el bazo-páncreas con lo dulce… De ahí que, por sabor interpuesto, los órganos estén en relación con las emociones.
Liberando sonrisas
Los antiguos griegos y latinos llamaban "humores" a los jugos que segregan las glándulas y las vísceras. De ahí procede nuestra palabra "humor" que manifiesta que los diversos jugos y secreciones corporales funcionan bien, en equilibrio, plenitud, orden y armonía.
Las personas que practican Yoga, mediante las posiciones invertidas, torsiones, arqueos, flexiones, etc., están drenando y tonificando vísceras y glándulas bien de modo directo o también reflejo.
El estar de pie o sentados de modo cómodamente erguido permite que en todo el cuerpo, pero básicamente en la cavidad torácica y abdominal, las glándulas y vísceras segreguen sus jugos de un modo pleno, ordenado y en equilibrio. He ahí una de las claves del buen humor del yogui.
Gracias a la práctica concentrada y atenta del Yoga, tenemos la posibilidad de liberar las muchas sonrisas y risas que se atesoran en la memoria y sabiduría natural de nuestro cuerpo.
Who is

Joaquín García Weil graduated in philosophy, yoga teacher and Yoga room Málaga director. Practice Yoga for 20 years and teaches it since makes eleven. He is a student of Swami Rudradev (leading disciple of Iyengar), with whom he has learned in Yoga Study Center, Rishikesh, India. He has also studied with Dr. Vagish Sastri de Benarés, among other masters.