Book: Health Ayurveda
Es un excelente manual de terapias ayurvédicas tanto para los que se acercan por primera vez a esta ciencia milenaria como para la consulta del profesional, escrito por el Dr. David Frawley.
Editorial: Ediciones Ayurveda.
Precio: 19,00 €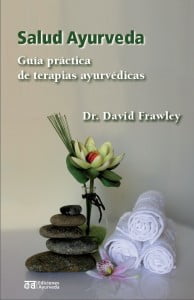 Con simplicidad, el Dr. Frawley presenta una amplia variedad de tratamientos que incluyen dietas, plantas y hierbas, aceites, gemas, mantras y meditación. Estructurado en tres partes -filosofía ayurvédica, tratamiento de las enfermedades y fórmulas magistrales-, Salud Ayurveda pone al alcance del lector occidental la sabiduría del antiguo sistema indio de medicina holística del Ayurveda.
Un libro para los que se toman la salud en serio. "El Dr. David Frawley es uno de los mayores expertos en Ayurveda de Occidente. Su contribución al conocimiento del Ayurveda ha sido muy valiosa. Salud Ayurveda será un clásico", ha comentado Deepak Chopra.
El Dr. David Frawley es reconocido en India y en Occidente por sus enseñanzas védicas, que abarcan la medicina ayurvédica, la astrología védica y el yoga. Ha divulgado sus conocimientos sobre estos temas en más de 20 obras, entre las que se cuenta media docena de libros sobre Ayurveda, como Ayurveda health: Guide practice of Ayurvedic therapies (Ayurvedic Healing Spanish Edition) and Yoga and Ayurveda: self-healing and self-realization (Yoga and Ayurveda: self-healing and self-realization), who has just published editions Ayurveda. Their translations of the Vedas and their historical studies about ancient India have been highly acclaimed by critics, as well as his journalistic articles about the modern India.
Currently, Dr. Frawley directs the American Institute of Vedic Studies and is President of the American Council of Vedic Astrology. He is also a member of the Board of Directors of Yoga International magazine.

Did you like this article?
Subscribe to our RSS so you don't miss anything