A stone in the Pocket
Algunos budistas suelen llevar un guijarro en el bolsillo, y cada vez que lo tocan accidentalmente recuerdan que están aquí y ahora, firmemente instalados en el momento presente, y esta toma de conciencia es el punto de partida de la meditación.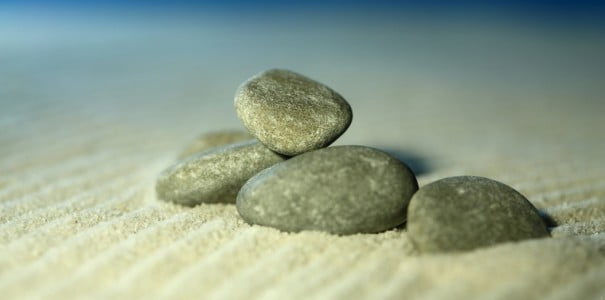 In the book Un guijarro en el bolsillo (editorial Oniro), el monje vietnamita Tich Nhat Hanh explica a los niños las enseñanzas y prácticas budistas que pueden realizar para transformar la ira y la insatisfacción y aprender a gozar del momento presente.
Una de estas prácticas se llama "Una piedrecita para tu bolsillo", y es un bonito regalo para hacer a tu hijo o a cualquier niño. Dice así:
A veces cuando te enfadas durante el día es difícil acordarte de detenerte y de respirar. Yo conozco un buen sistema para que te acuerdes de hacerlo cuando estés enfadado o disgustado. En primer lugar sal a dar un paseo y busca una piedrecita que te guste. Después ve a sentarte cerca del Buda , si hay uno en tu casa, o en el exterior, al pie de un árbol especial o sobre una roca especial, o ve a tu habitación. Sosteniendo la piedrecita en la mano, di:
Querido Buda:
Aquí tienes mi piedrecita. Cuando tenga un mal día, la usaré para practicar con ella. Siempre que esté enfadado o disgustado, sostendré la piedrecita en mi mano y respiraré profundamente. Lo haré hasta que me sienta tranquilo.
Métete ahora la piedrecita en el bolsillo y llévala contigo siempre. Cuando durante el día te pase algo que te haga infeliz, mete la mano en el bolsillo, sostén la piedrecita y, respirando profundamente, dite a ti mismo: "Al inspirar, sé que estoy enfadado. Al espirar, estoy cuidando muy bien de mi ira". Hazlo hasta que te sientas mucho mejor y puedas sonreír a tu ira.