Answers to the heart
Libro para acompañar tu meditación diaria, con reflexiones adaptadas a los problemas de hoy.
Editorial: Espasa.
Precio: 19,90 euros.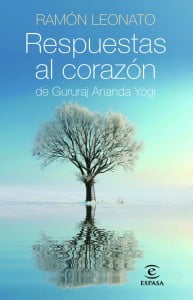 Es indudable que el hombre de hoy tiene una necesidad acuciante de aliviar la dureza de su vida cotidiana. El mundo esta cambiando a velocidades vertiginosas, pero el corazón del ser humano sigue anhelando la paz. Estar en paz consigo mismo y con lo que le rodea.
Compuesto por 365 pensamientos para acompañar tu meditación diaria (uno para cada día del año), Answers to the heart abre un espacio a la expresión más gozosa y sencilla de la vida, donde la mente y el corazón caminan de la mano.
Basado en las enseñanzas grabadas del místico, poeta y filosofo hindú Gururaj Ananda Yogi, Respuestas al corazón acompaña en la andadura íntima que te permitirá desplegar lo que eres, a través de la práctica del arte de la meditación.
El autor, Ramón Leonato, que conoció al maestro Gururaj Ananda Yogi en 1980, se formó en la Facultad de Medicina de la Universidad Autónoma y en la Facultad de Físicas de la misma universidad. Es MBA por el Instituto de Empresa y ha trabajado en España, el Reino Unido y Estados Unidos.
Enseña meditación desde el año 1984. Actualmente se dedica a tiempo completo a la Fundación IFSU y a la Sociedad Española de Meditación desde su sede en Asturias. Dirije al equipo de profesores de la web www.meditaya.com.

Did you like this article?
Subscribe to our RSS so you don't miss anything