Travel to India with the Dalai Lama
Del 30 de noviembre al 8 de diciembre de 2012, el Dalai Lama tiene previsto visitar el monasterio de Gaden Sharte, en el estado de Karnataka, en el sur de la India, donde viven alrededor de tres mil monjes.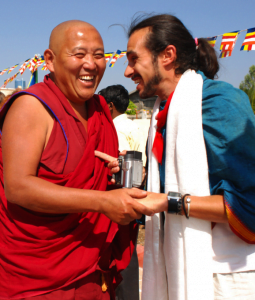 Más allá del viaje, una organización de viajes que además ayuda a preservar la cultura tibetana en el exilio, ha organizado un interesante viaje (que no esté abierto al publico en general) para convivir varios días con esos miles de lamas tibetanos dentro del gran monasterio de Gaden Sharte y poder ver de cerca al Dalai Lama y escuchar sus enseñanzas todos los días de esa semana. Después habrá posibilidad de hacer una extensión a Goa y a Hampy.
Los interesados deben ponerse en contacto lo antes posible con Paquita Melgar (www.paquitamelgar.com) para ampliar información y, en su caso, reservar plaza, pues los monjes necesitan tiempo para tramitar los visados especiales para entrar en la zona del campamento de refugiados dónde se sitúan las universidades y monasterios tibetanos en el exilio de India.
Para ver las características del viaje: www.masalladelviaje.com/introduccioacuten.html
La web oficial del evento es: www.jangchuplamrim.com