OM Namah Shivaia: invoke my inner self
A lo largo de toda la India, sobre todo en las zonas más santas, resuena, vibra, se escucha el mantra de los mantras:
OM Namah Shivaia
. Es por excelencia el mantra de Shiva, el todopoderoso señor del Tercer Ojo, el señor de las bestias, la deidad del yoga, el impenitente meditador.
Calle Ramiro writes.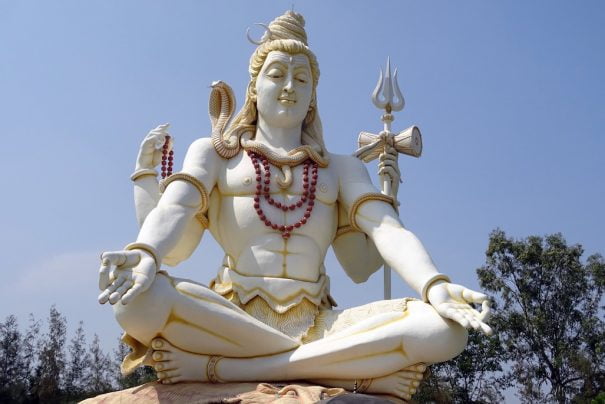 Este mantra es como una llave para abrir el portón de la mente e ir más allá de la mente; una ganzúa para abrir una rendija hacia lo que hace posible el pensamiento y no puede ser pensado ni conceptualizado; una llamada al yo más profundo, al Shiva interior. Porque Shiva es esa naturaleza real y cósmica que subyace en cada criatura y que el meditador invoca-evoca-convoca a través de la recitación de este mantra. El mantra puede recitarse verbal, semiverbal o mentalmente, en recogimiento, adentrándose en uno mismo, desconectando de todo para conectar con el Todo dentro de uno. El mantra puede tambien recitarse mentalmente asociándolo a la respiración: Om Namah al inhalar, y Shivaia al exhalar.
Muchas veces, en las noches de la India, he escuchado este mantra mientras trataba de conciliar el sueño. Sobre todo en los centros de peregrinación o ciudades más sagradas. No es un mantra para creyentes de una u otra religión, sino para todo buscador de lo Incondicionado. El mantra es una técnica que se utiliza para estabilizar la mente e interiorizarla. Por el mantra se va más allá del mantra; por la palabra, más allá de la palabra. Así el mantra ayuda a ir frenando el pensamiento incontrolado y dirigir la atención hacia adentro. Shiva está danzando fuera de uno y dentro de uno. Es el proceso cósmico. Es la fuerza interior que nos ayuda a ser nosotros mismos a pesar de las apariencias y de los claroscuros.
Cuanto más se recita el mantra, más se carga de intención y poder. El mantra OM Namah Shivaia (que recibí de varios mentores, entre ellos Baba Muktananda) es un modo de conseguir que el pensamiento cese para que se revele la luz del Shiva que subyace en lo profundo de uno y que es el aliento del aliento. Shiva representa la innata consciencia despierta, escondida en el trasfondo de la mente como la perla en la ostra o la mantequilla en la leche. Sentado en meditación, interiorizado, el practicante va recitando el mantra de una manera muy consciente, evitando la mecanicidad o las distracciones. Por el mantra se va más allá del mantra, por el sonido hacia el sonido cósmico. El mantra es una apoyo para la mente, pero también un modo de introspectarse y viajar a la raíz del pensamiento, donde cesa la noción del ego y va actualizándose la de Ser.
Calle Ramiro

More than 50 years has been Calle Ramiro teaching yoga. He began teaching at home and created an Academy of yoga correspondence for all Spain and Latin America. In January of l971 opened its Yoga Center Shadak, that have already passed more than half a million people. His 250 published works include more than fifty devoted to yoga and related disciplines. He has made Yoga the purpose and sense of his life, having traveled a hundred times to India, the homeland of yoga.

See the page of Calle Ramiro Facebook:
https://www.facebook.com/pages/Ramiro-ACalle/118531418198874
Did you like this article?
Subscribe to our RSS so you don't miss anything