Arcane No. 12: the hanging
The sense of the asana touches the essence of magic origin of Yoga. As with the arcana of the Tarot, the asanas have much more than what they are. 22 weeks will be presenting the arcane and his correspondence with asanas to end reflect on the sacred geometry of our body and its hidden language. Write this series Carmen Viejo.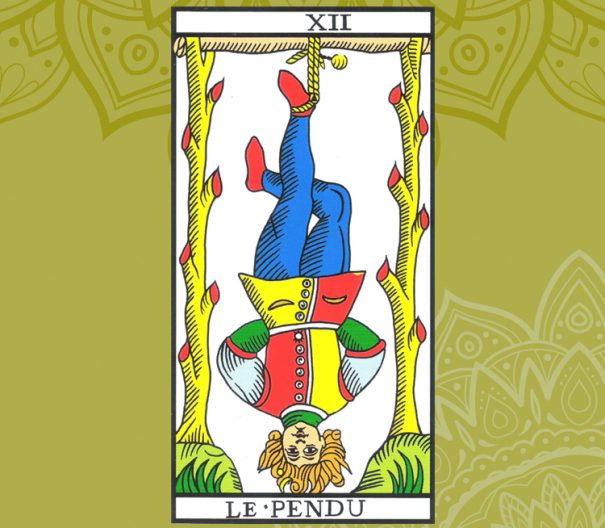 Palabra clave: "Desapego"
"Un hombre que practica el Yoga obtiene una paz duradera por el abandono del fruto de la acción". (Bhagavad Gita)
Este personaje permanece en suspensión colgado de un pie, con la cabeza hacia el suelo, como un péndulo. Se le ve tranquilo, inactivo, con las manos a la espalda tal vez en posición de espera, de aceptación. Su otra pierna se dobla voluntariamente, como un danzarín imposible e impasible. Es el Colgado, el número 12, misterioso arcano que enseña la actitud de alguien que parece estar invertido, mientras él ve a los demás en inversión.
El diez sumado al dos habla de un ciclo de perfección consumado que reposa esperando el devenir y la próxima acción, pues nada está concluido, de un polo vamos al otro, un eslabón atrae al siguiente y es parte de una organización mayor que requiere cada uno de sus elementos para estar completa. A un mes le sigue otro, y uno prepara al otro, siendo doce las partes del ciclo anual.
Sin agitación, sin deseo, sin miedo ni ansia, el número doce parece conocer la pasividad de la aceptación, que no es inacción, sino desentendimiento del resultado una vez acabada la obra. Decía Vivekananda: "Lo que es inegoísta es moral. Lo que es egoísta es amoral". Querer el provecho personal de la acción, estar pensando en el beneficio, en el enriquecimiento y en la valorización por encima de los demás, a la hora de actuar, sería egoísta y, por lo tanto, amoral.
This desapego hacia el resultado no es una suerte de dejación o pasotismo, no es una excusa para la inacción o la pereza, sino una entrega de lo mejor de uno, con la tranquilidad de que es todo lo que se puede hacer. Responder a lo que la vida brinda tocando la nota personal sin intentar apropiarse de la melodía. Y sentarse a observar el resultado, con la confianza de que somos parte de ese Todo.
Gandhi calificó a la Bhagavad Gita como "El evangelio de la acción desinteresada". En ese texto se explica que la acción es inherente a la naturaleza y se exhorta al cumplimiento del deber o dharma personal por amor a la acción en sí. Es la lección del sacrificio de los actos: una forma de elevación y de entrega a la gran obra de la Vida.
No es frecuente encontrar personas en esta vibración, por eso el Colgado está solo e invertido: hay fluidez dentro de su detenimiento, serenidad dentro de su singularidad, inmersión en las aguas astrales para comprender la realidad más allá de las apariencias. El Colgado parece saber cuándo actuar y cuándo detenerse. Como el Siddharta de Hermann Hesse, puede decir: "Sé pensar. Esperar. Ayunar".
Correspondence in asanas
ES Sarvangasa un tesoro inagotable que acompañará toda la vida del practicante. Su práctica le confiere una visión singular, invertida, de la realidad. Se traduce como "Postura de todos los miembros" por sus múltiples beneficios en todo el cuerpo. Es un tesoro de salud física y psíquica. El practicante se libera con ella de los efectos de la gravedad, que siempre actúan en la misma dirección, y reutiliza esa fuerza para beneficiar la corriente energética. Terminada la sesión, reconduce la fuerza acumulada a la cabeza, favoreciendo la meditación.
In Ardha Padma Vrksasana, "El árbol en loto", aunque estamos de pie, en equilibrio sobre una pierna mientras la otra permanece flexionada en posición del loto, podemos imaginarnos en el mundo invertido al mantenernos ajenos a las apariencias y a las comunes ambiciones.
Evolucionamos a Ardha Padma Ardha Chakrasana, "Postura de la mitad de rueda en la mitad de loto", situando la mano libre detrás de la cabeza, para adelantar caderas, elevar el tórax y generar una extensión dorsal, mientras la otra mano sostiene el pie en loto. Esta situación procura una visión del cielo mientras el practicante se mantiene entregado al equilibrio sobre un pie que comenzó en el árbol.
De la postura en extensión pasamos a la flexión desde la cadera, Ardha Padmottanasana, con lo que la inversión es ahora una realidad. Se mantiene el medio loto y el equilibrio sobre una pierna mientras se flexiona el tronco, aproximando la cabeza a la rodilla. La mano que estaba detrás de la cabeza toca ahora el suelo, estabilizando. El Colgado "mira bajo el agua" para comprender la verdad.
Tras repetir la evolución de los tres asanas en equilibrio sobre la otra pierna, el practicante se relaja en Shavasana y se sienta en meditación para descubrir los tesoros del arcano doce y esa sonrisa indescifrable propia de una Gioconda.
Nota: Estudio y efectos de Sarvangasana y de Ardha Padma Vrksasana en páginas 212 y 228 de

Yoga. Theory, practice and methodology,

y de Ardha Padma Ardha Chakrasana y Ardha Padmottanasana en páginas 306, 310 y 311 de

Yoga. Enlargement, both Manuel Morata.
Carmen old heir (Ahimsa). Yoga teacher, a degree in information sciences and entitled by the Yoga Vedanta Academy (School of Sivananda) and by the Spanish Association of practitioners of Yoga (school Manuel Morata).

Information: ahimsayogandalucia@yahoo.es

Course "Yoga and arcane: understanding and practice":

1st removal: from 24 to 30 July

2nd removal: 7-August 13

In "Casa de los Telares", value, Granada.

Information: ahimsayogandalucia@yahoo.es
Did you like this article?
Subscribe to our RSS so you don't miss anything