How to collaborate in Yoga for change (+ list of targeted centers)
On the occasion of the international day of Yoga, which will be held June 21, seed for change and YogaenRed want to invite you to participate in the action 'Yoga for change', an initiative that combines yoga and solidarity in order to attract funding for projects of the NGO.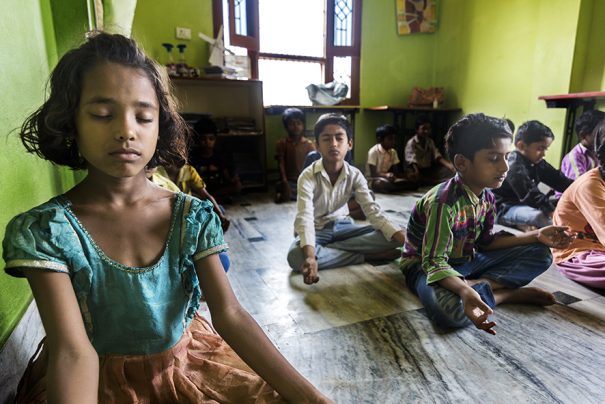 What is the action?
During the week of 17 to 25 June, centers and schools of yoga throughout Spain, organised Masterclass, talks or activities supportive of yoga, meditation and other disciplines of personal development, in order to support the work that seed developed in India.
To participate in these activities has been set one contribution per participant for 12 euros, that you go entirely to finance projects of education, nutrition, health and women's empowerment developed by the NGO on the ground. In Exchange for supportive participation of the centers and their students, all / as will receive a bad seed of rudraksha brought of Varanasi.
Rudraksha seeds have been used by mystics and Yogis from time immemorial. Its natural electromagnetic properties enhance concentration. When they are used as rosaries (bad) or charms reduce stress, regulate the heartbeat and blood circulation. He is also said to have positive energy vibration, that protect and isolate from the negativity to whom the utili-za generating peace and relief from internal tensions.
How can you participate?
If you're a yoga teacher and you want to join this initiative, you can organize a solidarity activity in favour of seed between 17 and 25 June. Send us your data (or those of your Center), the type of event that you want to make, the day and time to mail yogaparaelcambio@gmail.com before June 1. You will receive an email with the information and materials necessary to organize and disseminate the activity.
If you are a practitioner of yoga, You can support us by joining some of the activities organized in your area (you can find a list of participating centres in the) listing below). And you can also help spread the event and encourage your centre or yoga instructor to participate with any activity.
And if you do not have the possibility of organizing or participating in any activity, but you want to collaborate also with 'Yoga for change' making a contribution, you can do so through the 'Yoga 0' option. With this option, you will be supporting the work of seed for change in India and you will also receive the bad seed of rudraksha.
To participate in "0 Yoga" is accessible directly through this link.
You have all the information on Yoga for change here.
Join this global solidarity action!
More information and contact: Manuel white Aisa / 639-648-880 t / yogaparaelcambio@gmail.com

www.semillaparaelcambio.org/colabora/yogaparaelcambio | www.facebook.com/semillaparaelcambio
Listado Centros apuntados a "Yoga para el Cambio" , a 30 de mayo 2017
We ask all centers make us get their calls for the Act/acts that organized for the week from 17 to 25 June, in commemoration of the international day of Yoga, to mail info@yogaenred.comin order to disseminate them from YogaenRed.
Sherab / Donostia
Espaioga Palma / Palma de Mallorca
Yogaland / Melilla
Power Yoga Canary / La Palma Gran Canaria
Gloria Alcaide /Albahaca Yoga / Valladolid
Yoga Center Iturbi / Valencia
Sync Yoga / Barcelona
Zero Gravity / Logroño
Gangadhara Yoga / Madrid
Space healthy yoga and therapies / Villacarrillo (Jaén)

Anahata / Palma de Mallorca

Zentro naturally / Tudela (Navarra)
Ananta Pilates Center / Collado Villalba (Madrid)
Pranayama Palafolls / Palafolls (Barcelona)
Morales Francina Adroher / Malaga
Mindfulness ynaturopatia / Sevilla
Kaivalya School of Yoga / Barcelona
Ashtanga Yoga Alcobendas / Alcobendas (Madrid)
LasaiBizi"yoga eskola / Basauri (Vizcaia)
Yoga Art Studio / El Escorial (Madrid)
Bikram Yoga Spain A Coruña / A Coruña
Inspired conscious life / A Coruña
Dhara Yoga / Madrid
Yoga4socialchange / Madrid
Space Natura / Caspe (Zaragoza)
Yoga synthesis / Barcelona
Proyoga Yamuna / Barcelona
Espai Yoga Barcelona /Barcelona
Dalmai Yoga / Madrid
Anahata Yoga school / Cordoba
The sphere / Cadiz
Horta Esportiva de Barcelona /Bacelona
Yoga amb your / Barcelona

Centro de Yoga Integral Mahashakti / A Coruña

Escuela de Yoga Saralatma / Madrid

Centro Yogasadhana / Ciudad Real

Centro Mandala / Madrid

Hridayam Espacio Yoga / Pamplona

Asociación Shiva-Shakti de Yoga Integral / Madrid
Did you like this article?
Subscribe to our RSS so you don't miss anything