Gran Canaria Yoga Conferencia, del 26 al 28 de mayo
Los días 26, 27 y 28 de mayo de 2017 tendrá lugar el 2º Congreso Internacional de Yoga en Gran Canaria, cuyo objetivo es crear un encuentro para todos aquellos practicantes de yoga que buscan un espacio de referencia para profundizar en su práctica diaria.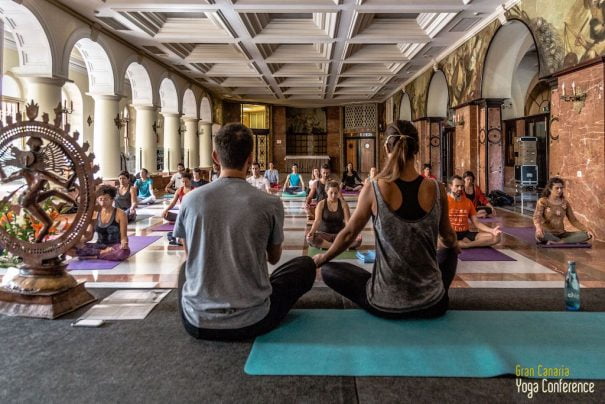 La intención es crear una experiencia de aprendizaje dentro de un marco seguro, inspirador y transformador que permita a cada participante profundizar y conectar con su potencial a través del yoga, la meditación, los cantos sagrados, una dieta sana y equilibrada y la convivencia con otras personas con las mismas inquietudes y afinidades.
El programa, muy atractivo, contempla la participación de más de 40 profesores de todos los estilos que durante tres días ofrecen 4 prácticas diferentes simultáneas (4 salas) a lo largo de cada jornada (de 7:00 a 20:00). Puedes verlo todo here.
It will be a meeting point donde podremos convivir con grandes maestros que ayudarán a desarrollar y perfeccionar estas prácticas para el desarrollo integral de cualquier persona.
Un congreso para todos los nivele,s desde principiantes y neófitos en el yoga, hasta profesores y practicantes de esta disciplina ancestral.
Donaremos un 3% de los beneficios del congreso a la organización AMMA
Convocan: Luis de Miguel and Asociación Yoga Planet
Detailed information: https://grancanariayogaconference.com/
Did you like this article?
Subscribe to our RSS so you don't miss anything