Interview with Saraswathi Jois: "my father sent me your energy"
She is the daughter of Sri K. Pattabhi Jois, Ashtanga Yoga Vinyasa propeller. Born in 1941, was the first woman to be accepted in the Sanskrit College in Mysore. Teaches Ashtanga Yoga Vinyasa from the year 1971, and their sons are Sharmila and Sharath Jois. It is an interview of Anna Costanza to YogaenRed.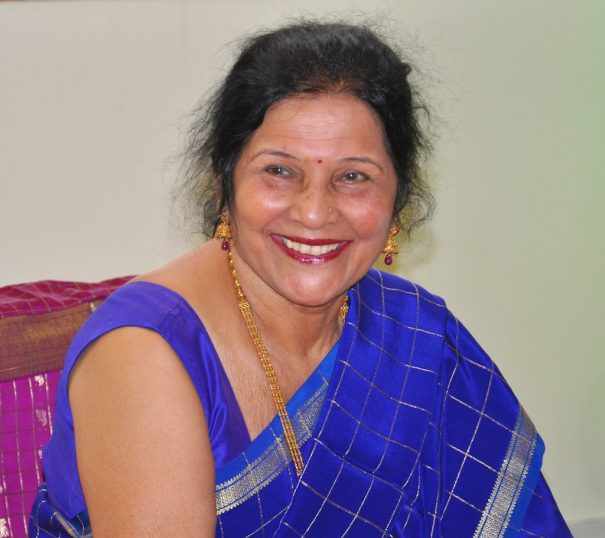 In Mysore, last December, Anna Costanza He met the daughter of the master Pattabhi Jois, Sawaswathi, who will come to Spain from the hand of Anna, to teach a workshop of the 26 to the 30 of April in Madrid.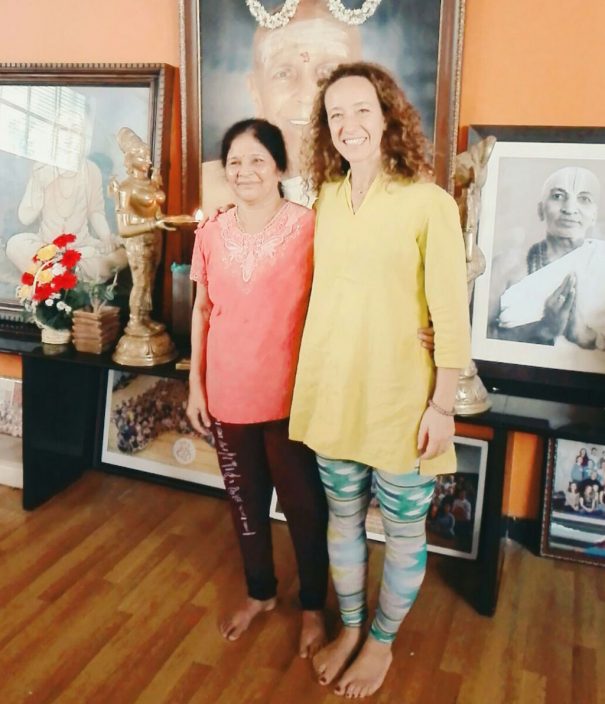 Anna Costanza: Before all thank you for receiving me and give this interview for the magazine YogaenRed, focal point for the community of Yoga in Spain. My questions aims to give to know who you are and what is the work that does. We can start with us contase a little of his biography.
Saraswathi Jois: yes, right. I was born in Mysore and yet I'm still here... (laughs). I started practicing yoga asanas with 10 years and practiced continuously until the 22nd. When was small was very flexible and my father I did do demonstrations of asanas while he explained its benefits. For me was a bit how do circus.
Since I was very young my father taught me how teach and adjust to others. When I got married, according to the custom here in the India, I went to live to the city of my husband during four or five years, there gave class to children. I have two sons, Sharmila and Sharath.
When I got pregnant with Sharath I returned to Mysore, the District of Lakshmipuram, to the House of my parents since my husband was traveling much for his work. Every six months, a move. Both travel not me seemed good for the education of my children and my parents I convinced to return to live with them. I was during 14 years and then built my own house in another neighborhood of Mysore (Gokulam), with the condition of return with them parents after my daughter more is married, but never it did! (laughs). Always I liked to be independent, have my own House. I just went to my parent's House when my mother died in 1997, to be able to take care of my father; first in Lakshmipuram, then in Gokulam.
When we moved to Gokulam we lived in the House where he is now a shop product Jois. We stayed there until my father built the large in 2002 (current Shala KPJAYI) and above the family home.
I started to teach in Lakshmipuram when born Sharath, first only to women and then to the students of my father, while he was traveling abroad. I've been teaching almost 47 years.
The Institute has evolved since the death of Guruji?
The Institute does not has changed, still equal. I've always been teaching independently for 44 years. After the death of my father, at the end of my classes at the small Shala came here to the big Shala help Sharath, but now I have too many students and me is no longer possible to come here to help.
This year you has granted the first official authorization to teach Ashtanga Yoga in the tradition of Pattabhi Jois. You want us to talk about that?
This is something that had been wanting to do for a long time. Finally cREO that my students want to receive authorization to teach, especially older students from my hands. By that I started this year the process of authorization, also because I'm doing more (laughs).
With that age and until when you can practice the Ashtanga Yoga Vinyasa?
Children can start from the age of 10, but from the age of 15 is when they begin to understand the practice. He Ashtanga yoga you can practice all the life. Up to a certain age you can make all the series: first, intermediate, advanced, but after age 50-55 may only make first series enough. Depends on the State of the person, if it is strong can continue without problems. For women, it can be different. After 55 first series and Intermedia may be sufficient. That is due to the physiological changes of women.
Are all Series suitable for women as for men?
Yes, but some positions in the advanced Series are not suitable for women.
How is it proceeds with people starting to practice in old age?
I think that dominate first series may be sufficient (laughs).
And to them pregnant?
As each pregnancy is different in every woman, I recommend not to practice the first three months, in general. First is suitable confirm the health of the woman and of the baby in the first quarter, then is can keep the practice without variants ones days to meet the fourth or fifth month of pregnancy. From that time it should start to jump some positions. Some of the positions of the first series are very good for the pregnancy: Baddhakonasana, Upavistakonasana for example. It is important to adapt the practice and keep practicing during pregnancy. After give to light is convenient wait three months before resuming the practice.
During the menstruation I recommend rest absolute of the practice. This is very important for the health of the woman. After the period the body is in the condition perfect for health, but during is necessary to rest.
The recitation of mantras and the study of texts is important as the? Yoga Sutrasthe Twine or the Upanishads?
Patanjali is the guru Supreme of the Yoga. Before beginning the practice reciting to the guru, showing our gratitude and respect. That is very important.
The recitation of mantras is very important for the peace and mental clarity. After the practice of yoga asanas you should sit for half an hour and reciting mantras. Gives equal to what Dios, which you like more, but feel you and recites each day, your mind is renewed. For the study and correct recitation of the texts as the Twine It is necessary to know the Sanskrit language. There are many translations in different languages, but if you know Sanskrit, better.
Why during the tours in the foreigner only teaches classes guided?
It is necessary to teach the correct method with the count of the vinyasas, pranayama and mantras we recite at the end of the class. There are many people who do not know correct postures, breathing, etc., so I guided classes.
You teach each morning from 04:00 until after 10:00. They are extended hours! You are always in a good mood, with a smile for everyone. How it does?
(Laughs) My father taught me that energy. I never tire in the shala.
Anna Costanza It is a yoga teacher and founder of Yoga Shala Alcobendas. Organizer of the workshop of Saraswathi Jois in Madrid, who is student direct.

The workshop of Saraswathi Jois in City Yoga:

In Madrid for the first time, from 26 to 30 April 2017.

For more information about the workshop and to book a place you can contact: Yoga Shala Alcobendas

www.ashtanga-yoga-alcobendas.es

saraswathi@ashtanga-yoga-alcobendas.es
Tel. + 34.607612472

Did you like this article?
Subscribe to our RSS so you don't miss anything