Self-management for the practice of Hatha Yoga
Un curso destinado a aportar las herramientas necesarias para involucrarnos activamente en la mejora de la propia vida a través de la práctica personal autogestionadadel Hatha Yoga. Con Marta Espeita Izquierdo y Eva Espeita Izquierdo (Swni. Radhananda Saraswati) en Aushadhi Escuela de Yoga.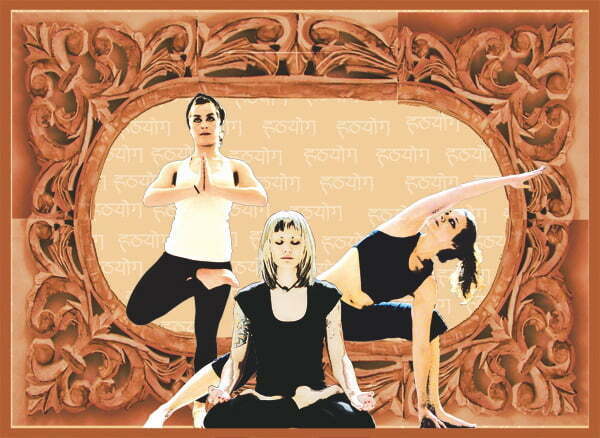 "El Yoga emergerá como una poderosa cultura global
y cambiará el curso de los eventos del mundo."
Swami Satyananda
El Hatha Yoga constituye una herramienta de un alcance inigualable para la armonización de todos los aspectos que componen la experiencia vital (física, emocional, mental) y, por tanto, es una de las vías más preciadas que el ser humano ha desarrollado para alcanzar salud y plenitud, así como para refinar y sutilizar la atención hacia el despertar y el desarrollo de la consciencia en forma de libertad y felicidad (ānanda).
Saber y conjunto de técnicas milenarias, el Hatha Yoga ha sido, especialmente en Occidente, objeto de una gran popularización (en ocasiones a través de versiones tergiversadas que poco o nada tienen que ver con su sentido original) a lo largo de las últimas décadas. Esta popularización ha resultado maravillosa en el sentido de expandir el potencial de dicho saber e incluso enriquecerlo con aportaciones modernas (como la biomecánica, la anatomía, etc.) que hacen del Yoga una tradición viva en constante evolución.
Sin embargo, no es menos cierto el hecho de que esta popularización ha derivado en ocasiones en abusos económicos que privan a las personas de la posibilidad de despertar el maravilloso potencial que la práctica del Yoga permite, así como en viles acciones como el intento de adueñarse legalmente de parte de este legado tradicional que, a nuestro entender, es y ha de ser necesariamente tomado y compartido como patrimonio libre de toda la humanidad.
Desde Aushadhi, Eva y Marta Espeita han sentido la necesidad de, en la medida en que resulte viable dentro de sus posibilidades, difundir la sabiduría del Yoga de la forma más inclusiva posible. De ahí la concepción del curso "Autogestión para la práctica de Hatha Yoga", una formación encaminada a aportar las herramientas necesarias a todas aquellas personas que deseen involucrarse activamente en el perfeccionamiento de su vida a través de una práctica personal y autogestionada de la ciencia milenaria del Hatha Yoga.
Con la idea de fomentar la autorresponsabilidad personal (uno de los aspectos cruciales para una autogestión sana y armoniosa de nuestras vidas) y de evitar la posibilidad de que ninguna persona que realmente quiera practicar Yoga pueda crear excluida, han diseñado el curso de tal manera que su retribución se realizará mediante un sistema de free price (ver detalles here).
Schedules: Un sábado o domingo al mes, de 9:30 a 14:00.
Structure of the sessions:
9:30 / 11:30 practice of Hatha Yoga
11:30 / 12:00 lunch break
12:00 / 13:30 theory, questions and answers
13:30 / 14:00 Final practice
A quién va dirigido el curso:
-Cualquier persona que, sin necesidad de conocimientos previos, quiera descubrir, experimentar e incorporar en su vida, desde la base, la teoría y práctica del Hatha Yoga.
-Practicantes ya iniciados en Hatha Yoga que necesiten o deseen ahondar de forma explícita en la base y fundamentos de esta sabiduría, ganando con ello la confianza necesaria para comenzar a autogestionar su práctica personal.
Se propone una Sadhana, lo cual implica desarrollar una práctica personal diaria, following them indications that is offer during the sessions, for which is dan all the explanations necessary and clarification of doubts, next to them own sessions guided that serve of reference.
There are several questions that you can ask yourself:
– Si estás dispuesta/o a comprometerte contigo misma/o y adoptar la disciplina de practicar todos los días al menos de 30 minutos a 1 hora.
– Si estás dispuesta/o a asistir a todas las sesiones del curso, procurando no faltar a ninguna de ellas para no perder la formación imprescindible para una práctica correcta.
– Si estás dispuesta/o a considerar la inmersión en este curso como un paso más allá en tu camino de evolución personal.
Si es así, en Aushadhi Escuela de Yoga, te esperan
Dates
Domingo 22 de enero
Saturday, February 11
Sábado 25 de marzo
Sábado 22 de abril
Sábado 13 mayo
Duración: 27 horas

Did you like this article?
Subscribe to our RSS so you don't miss anything