Vegetarian recipes / chick peas with vegetables (Gypsy pot)
We share great and sanisimas recipes blog 'Eat to live'. Type and kitchen Gauri, Professor of vegetarian cuisine of the Sivananda Centre of Madrid and the affiliated Centre Sivananda Vedanta of Granada.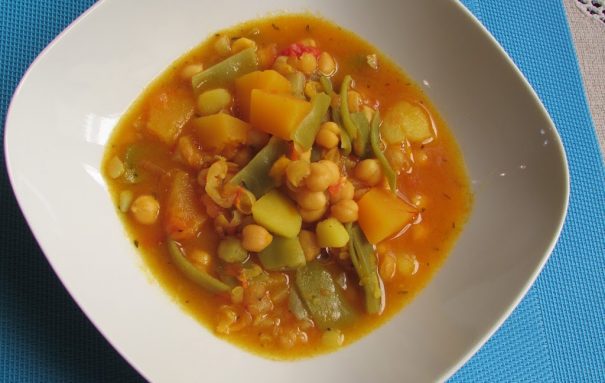 Este plato es una receta original de la región de Murcia. Se llama olla gitana, es deliciosa y perfecta como muchas de las recetas vegetarianas tradicionales. La clave es el origen y la calidad de los ingredientes. Me pasó la receta AtmaJyoti, que a su vez se la había pasado un alumno de los cursos de cocina de Sivananda. Ha pasado tiempo desde que me la dio, pero es una auténtica bendición, es un plato completo para el almuerzo. Hay muchas variantes, esta es otra más, adaptada a la cocina del yoga.
Ingredientes (4/6 personas):
200 gr. de garbanzos secos
300 gr. de judías verdes en trozos

300 g de calabaza en trozos

½ Kg de patatas (opcional)

1 rama de apio picado

1 tomate mediano pelado y picado

2 cucharadas de aceite de oliva virgen extra

1 cucharadita pimentón

½ cucharadita de cúrcuma

1 puñadito de hojas de azafrán

1 cucharadita de tomillo seco

Salt
Preparation:
Poner los garbanzos en remojo la noche anterior (al menos durante 12 horas). Lavar y hervir los garbanzos con ½ cucharadita de cúrcuma hasta que estén tiernos.

Preparar la verdura, lavar y cortar en trozos medianos las patatas y las judías. Echar en la olla con los garbanzos unos 20 minutos antes de que los garbanzos estén tiernos. Para espesar el caldo, antes de poner el sofrito y la calabaza sacar unos trozos de patata y unos pocos de garbanzos y después machacar todo junto poner de nuevo en la olla.

En una sartén poner el aceite a calentar y sofreír el apio y el tomate. Una vez hecho retirar de la sartén y añadir el pimentón y las hebras de azafrán. Echar el sofrito en la olla, junto con el tomillo, la calabaza y una cucharadita de sal. Dejar hervir todo junto a fuego medio alto durante unos 10 minutos.
Note: Si quieres no poner patatas y quieres un caldo espeso, puedes espesarlo majando unas cucharadas de garbanzos. Y acompañar el plato con un poco de arroz para completar las necesidades de hidratos de carbono y proteínas.
Did you like this article?
Subscribe to our RSS so you don't miss anything