The Asana, symbol of the Cosmos
El ásana es una construcción viva, arte en procura de la belleza, un ritual de invocación, una
performance
en la que un ser humano solitario (aunque esté en grupo), con los sencillos medios de su cuerpo y su esterilla, intenta recrear el orden primordial… Escribe Carmen Viejo.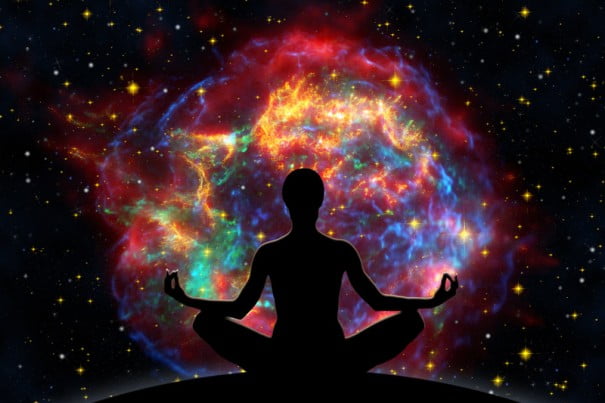 Antes de ser humanos fuimos cosmos. El camino de la conciencia nos exige zambullirnos en el caos de la vida para poder recrear conscientemente, a lo largo de la existencia, el orden perdido. El old started, un ser humano inconformista y nostálgico, descubrió la forma de volver, al menos puntualmente, al orden primordial. En una esterilla, o en una manta o en una piel, se aparta de su día a día, y se ocupa de algo que nada tiene que ver con la supervivencia animal: algo bello, un reto a su naturaleza, una superación de las leyes que le atan a la mente y al tiempo, una postergación del dharma social para avanzar en el dharma universal.
Un àsana, lo decía Mircea Eliade, es una superación de lo profano. Lo profano viene marcado por las necesidades primarias y las reacciones. Lo sagrado es un hacer genuino, una construcción desde la voluntad exenta del deseo perentorio, la voluntad real, la que mueve al Universo mismo desde su infinitud como el eco exacto del Cosmos.
Hoy en día, esa historia del mito que nos cuenta cada àsana, como un capítulo del libro de la odisea humana, viene a nuestra esterilla en medio de la inmensa ignorancia en la que vivimos. Y, como los cuentos mágicos, aunque no la entendemos actúa en nuestro subconsciente despertando la heroicidad de ese iniciado, inconformista y nostálgico, y la melodía que recrea por un momento la Belleza intrínseca, la Armonía latente, el Orden perfecto solo posible en Espíritu, que nos posee en nuestra humilde àsana.
Por eso, sigamos poniendo incienso, sigamos preparando bien nuestra clase o nuestra sesión personal, pongámonos ropa limpia, bajemos la luz, apaguemos el teléfono, cerremos la puerta, hagamos silencio y comencemos a respirar rítmicamente: es el momento del día para traer a nuestras vidas el recuerdo lejano, desfigurado, algo magullado, del Cosmos.
Carmen old heir (Ahimsa)

Yoga teacher, a degree in information sciences and entitled by the Yoga Vedanta Academy (School of Sivananda) and by the Spanish Association of practitioners of Yoga (school Manuel Morata).

Workshops and retreats in Granada.

Information: 620549192 Tf. ahimsayogandalucia@yahoo.es
Did you like this article?
Subscribe to our RSS so you don't miss anything