Spiritual friends
No necesitamos engolados y prepotentes gurus de masas; no necesitamos hipócritas mistagogos; no necesitamos arrogantes y narcisistas maestros de estrechos puntos de vista y que quieren detentar el monopolio de la verdad. Escribe Ramiro Calle.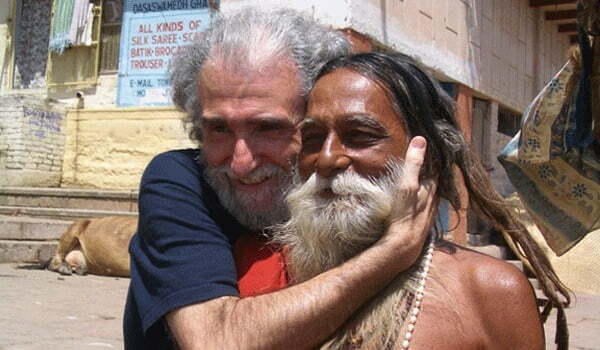 Necesitamos amigos espirituales que nos inspiren y a los que inspirar, que nos alienten y a los que alentar, que caminen con nosotros, de ser a ser, por la larga y sinuosa senda hacia lo Incondicionado. De otra forma, como diría Buda, más vale caminar en solitario como el elefante.
Los amigos espirituales nos hacen la Búsqueda más liviana. Con ellos compartimos nuestras vacilaciones y temores, con ellos nos confortamos y de ellos no dejamos de aprender. Si todo amigo es un tesoro, un amigo espiritual es un tesoro doble.
He tenido la fortuna a lo largo de mi vida de poder contar con muchos amigos espiritulales, que han sido la gran enseñanza y el consuelo de mi vida, desde mi primera amiga espiritual, mi madre, y mi primer amigo espiritual, mi hermano Miguel Ángel, a otros muchos que me han ayudado a suturar las grietas del alma. Entre ellos siempre me está presente en mi alma Babaji Shivananda de Benarés, que aparece en una foto de hace muchos años. Sus palabras están inscritas en mis células.
-Hay que saber mirar y mantener la calma ante todo. Ecuanimidad, siempre ecuanimidad, Ramiro. Todos somos como los dedos de una gran mano cósmica y tenemos que aprender a conectar con ella, pues en realidad nunca estamos desconectados de la misma. En este sentido es muy útil la meditación. El corazón de todas las criaturas es el mismo, pero desde niños nos han superpuesto códigos, esquemas, y se ha ido formando el ego, que se interpone entre uno y su ser real.
-¡Cuán vacíos están los seres humanos!-le comenté, y añadió:
-Hay mucha insatisfacción. No se puede superar solo con los bienes maeriales. Hay que adiestrarse en la ecuanimidad y el equilibrio. Hay que verlo todo como si fuera una película. Hay que mirar sosegadamente, sin dejarse confundir por Maya, lo ilusorio. Bailamos siempre de acuerdo a la voluntad del Absoluto, pero no lo comprendemos. ¿Qué sentido tiene esta vida si no hay paz?
Nos sentábamos frente al río más sagrado y poluto del mundo: el Ganges. Nos comunicábamos con palabras y largos silencios. A veces se quedaba meditativo y su paz interior contagiaba mi alma de reveladora quietud. Musitaba para decir:
-La meditación es el mejor sendero de vida para todos. Es el camino más directo hacia el Ser. Tenemos que servir a los otros y ganar la paz interior.
Éramos grandes amigos espirituales. ¡Qué afortunado fui al contar con su amistad!
Un amigo espiritual es un apoyo maravilloso en la aventura del espíritu. Su fuerza es nuestra fuerza; su motivación es nuestra motivación; su presencia, incluso más allá del cuerpo, entibia el alma gélida de la soledad e invita a seguir en la búsqueda del Sentido.
Nunca he necesitado gurus, ni guías salvadores, ni maestros que me engatusen con analgésicos espirituales. Pero siempre he necesitado y necesito amigos espirituales, para caminar con ellos codo con codo y esperanza con esperanza.
Calle Ramiro

More than 50 years has been Calle Ramiro teaching yoga. He began teaching at home and created an Academy of yoga correspondence for all Spain and Latin America. In January of l971 opened its Yoga Center Shadak, that have already passed more than half a million people. His 250 published works include more than fifty devoted to yoga and related disciplines. He has made Yoga the purpose and sense of his life, having traveled a hundred times to India, the homeland of yoga.

Watch the Calle Ramiro Facebook:
https://www.facebook.com/pages/Ramiro-ACalle/118531418198874
Did you like this article?
Subscribe to our RSS so you don't miss anything