Yoga in daily life, with Swami Sivadasananda
El yoga no se lleva bien con las prisas, pero sí con la paciencia y la vida sencilla. De ello llega para hablarnos, el 3 de febrero, Swami Sivadasananda, yoga acharya, director del Centro de Yoga de Madrid y director de los Centros Sivananda de Europa.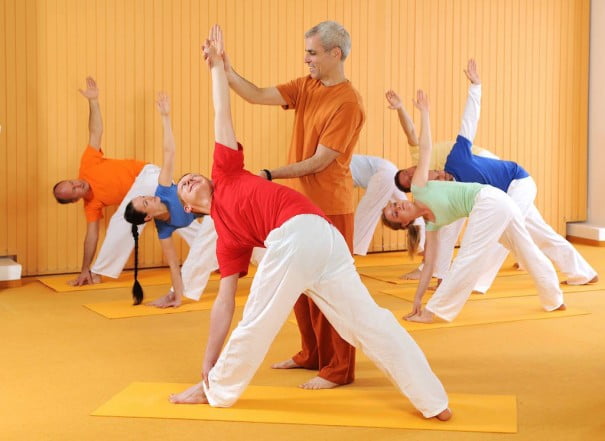 Asistir a una clase de yoga con Swami Sivadasananda es concederse un espacio para el auténtico disfrute de la práctica. Es evidente que le encanta enseñar con buen humor, corregir con alguna broma, sembrar semillas acerca de lo importante del yoga.
Así enfoca Swami Sivadasananda la enseñanza del yoga:
"La clase de yoga nos abre una y otra vez a una experiencia nueva y elevadora:
Tensiones que se encuentran y se desbloquean,
reacciones emocionales que afloran
y que se ven sublimadas en la positividad del espacio,
la autosugestión que toca cada músculo y renueva el sistema nervioso,
La cercanía de este compañero fiel que es el aliento,
que nos lleva de la mano y nos muestra la armonía innata en nuestro viaje por el tiempo,
el sentido profundo del tacto que vibra en los músculos y las articulaciones
y que nos enraíza de nuevo en la gravedad,
y desde allí con el espacio.
Luego de la clase:
el silencio en la postura de meditación,
the singing of mantras
y las palabras universales de paz.
Esta tarde de yoga acaba con un sabor auténtico:
el rencuentro contigo mismo".
El programa de la visita de Swami Sivadasananda al Centro de Madrid el próximo 3 de febrero:
Programa: "El Yoga en la vida diaria"
19:00hs Clase de Yoga

20:30hs Satsang con Meditación, canto de Mantras y Conferencia.
More information: https://www.facebook.com/events/1045550448839242
Swami Sivananda y sus 10 Formas de entender el Yoga

1.-Es un sistema de educación integral.

2.-Es un método que revisa la totalidad de las facetas de la personalidad humana.

3.-Es, ante todo, un modo de vida.

4.-No renuncia a la acción, sino que te permite actuar eficazmente con el espíritu adecuado.

5.-Es para todos.

6.-Su práctica no se opone a ninguna religión.

7.-Precisa de una intensa disciplina personal.

8.-No se lleva bien con las prisas, pero sí con la paciencia, con la vida sencilla y con la austeridad.

9.-La aspiración espiritual es el primer paso en el camino del yoga.

10.-Te infundirá renovadas fuerzas, tranquilidad y autoconfianza.

Swami Sivananda
Did you like this article?
Subscribe to our RSS so you don't miss anything