Music to lift your spirit, at the Festival of Mantras
Una oportunidad única para descubrir y deleitarse con una música insólita, desconocida para la mayoría, capaz de hacer vibrar las fibras más íntimas de nuestro espíritu. Hoy develamos el menú musical irrepetible de los dos primeros días: el qawwali de

Sajid Ahmed Khanthe

khoomei de Sajid Ahmed Khan y los cantos armónicos de Antonio Ferrara.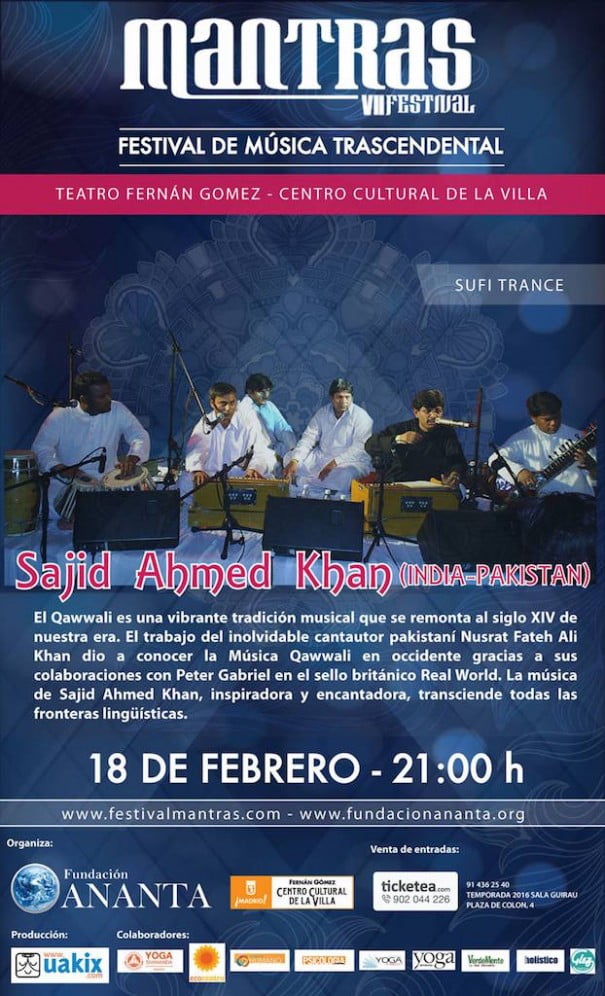 Llega a Madrid el VII Festival Mantras, festival único en nuestro país dedicado a la música trascendental, sonidos que nos conectan con nuestro interior, voces que acarician el alma, ritmos que nos conducen al éxtasis. Todos con un denominador común: las traen artistas únicos que siguen cultivando tradiciones musicales milenarias con un alto contenido espiritual. Como en anteriores ediciones, los beneficios que se generen serán destinados a los cinco programas solidarios de Ananta Foundation, Organizer of the festival.
Serán cuatro conciertos entre el 18 y el 21 de febrero de 2016, ambos incluidos.
–El jueves 18 de febrero conoceremos el qawwali, con el concierto de Sajid Ahmed Khan y su ensemble de 8 músicos acompañados de instrumentos tradicionales como la tabla, el armonio o el dholak. Espectacular verada inaugural.
The qawwali es una vibrante tradición musical que se remonta al siglo XIV, originaria de la India islámica, utilizada como vehículo para difundir la filosofía central del sufismo. Al principio se realizaba principalmente en India y Pakistán aunque actualmente ha ganado popularidad y está mucho más difundida. El trabajo del cantautor Nusrat Fateh Ali Khan desde sus orígenes hasta su reciente muerte, contribuyó enormemente a su difusión en Occidente, gracias a sus colaboraciones con Peter Gabriel y su discográfica Real World y a bandas sonoras de películas de Hollywood y Bollywood como La Última Tentación de Cristo. Esta espectacular velada inaugural estará protagonizada por Sajid Ahmed Khan y su ensemble de 8 músicos acompañados de instrumentos tradicionales como la tabla, el armonio o el dholak.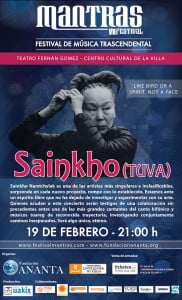 –El viernes 19 de febrero descubrirenos el khoomei Thanks to Sainkho Namtchylak, una voz que nos llega de la remota república de Tuvá, situada al sur de Siberia.
Sainkho es una especialista del khoomeï, cantos guturales y bifónicos que pertenecen a ancestrales tradiciones chamánicas. Esta técnica produce varios sonidos a la vez y una onda sonora muy poderosa que afecta a la consciencia de muchas formas beneficiosas. Una de las artistas más singulares e inclasificables que existen, reconocida mundialmente y que sorprende en cada nuevo proyecto, rompiendo con lo establecido. Estamos ante un espíritu libre que no ha dejado de investigar y experimentar con su arte. Nos presentará, acompañada por sus músicos, su nuevo trabajo titulado Like a Bird or Spirit, not a Face, dedicado a pueblos nómadas como el suyo o como los tuareg de África entre los que ha descubierto sorprendentes similitudes.
Ese mismo viernes 19 de febrero, abrirá la noche Antonio Ferrara, reconocido cantante, compositor y productor español que ha trabajado con los artistas más famosos de nuestro país y que presenta su ambiciosa propuesta musical donde fusiona elementos pop, canto de armónicos y percusión tribal. Además de su faceta artística, Antonio Ferrara está desarrollando una terapia que consiste en equilibrar nuestros cuerpos sutiles y densos mediante la resonancia con canto de armónicos.
Detailed information: http://www.yogaenred.com
Did you like this article?
Subscribe to our RSS so you don't miss anything