Class of yoga OnLine 17: Vinyasa
De nuevo presentamos a nuestros lectores una completa Clase de Yoga OnLine producida por la Escuela Internacional de Yoga, un regalo exclusivo para todos los lectores de Yoga en Red. Se trata de una clase guiada por Rocío López.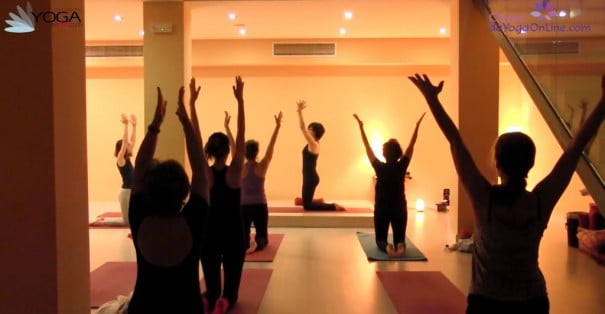 En esta clase te proponemos un Vinyasa en el que nos detendremos en cada postura para respirar y sentir la quietud. Trabajaremos la musculatura de los brazos en el Plano inclinado y Bhujangasana; de las piernas en posturas de pie; y encontraremos espacio para relajarnos en Balasana.

Rocio Lopez es tutora de la Formación de Profesores de Yoga en sus modalidades Presencial y OnLine.
Es practicante de Hatha Yoga, Yoga Dinámico y meditación. "La práctica de yoga, tanto sobre la esterilla como en la vida cotidiana, es un espacio para la escucha interior; un aprendizaje a través de la observación del cuerpo, la mente y el corazón, siempre poniendo una especial atención a la respiración, que nos facilita estar presentes."
This kinds of Yoga platform has been created by the international school of Yoga to get the learning and practice of the Yoga wherever you are.

Each week it incorporates classes of different styles with different objectives, so that you can move into your practice.

You can choose practices short of 30 minutes and complete more than one hour classes, as well as several levels that adapt to your practice. Also you can practice meditation and Mantras.

Sign up for free to get access to complete various kinds of welcome. Click on: Free registration
Did you like this article?
Subscribe to our RSS so you don't miss anything