Emile is Emile
¿Qué voy a deciros sobre Emile, mi gato, mi amigo del alma, mi fiel compañero cuando estoy escribiendo o haciendo yoga, el que nunca juzga y el que siempre se da incondicionalmente? Emile es Emile. Como yo, tras mi enfermedad tan grave, un superviviente. Escribe Ramiro Calle.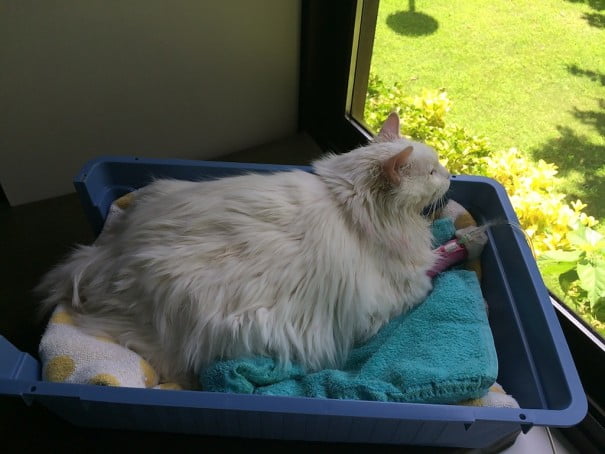 No he podido saber nunca su edad. ¿Once años? ¿Tal vez doce o trece? Ya ha pasado dos veces por el quirófano; ya ha estado varias veces muy enfermo, pero luego se recupera con gran rapidez y enseguida vuelve a ser muy intrépido, eternamente jugetón, un carácter alegre y contagioso.
Él es para mí intemporal, pero a veces me gustaría, y no poco, saber su edad y conocer su historia existencial y cómo era de cachorro. Lo tenía un gitano que lo abandonó en un descampado al optar por un perro de presa. Luego cayó en manos de alguien que cruelmente lo desatendía.
Luisa, mientras yo estaba al borde de la muerte en la UCI, lo acogió. En tanto yo hacía piruetas por el alambre entre la vida y la muerte, él ya se empeñaba en subirse al lado de mi cama. Nada más volver yo a casa, se apoyaba en mi pierna insensibilizada y ahí permanecía horas.
Nunca nos sentimos como extraños el uno con el otro. No era conocernos lo que estábamos haciendo, sino reconociéndonos. Nació enseguida un vínculo muy especial. Las veces que ha estado grave y he pensado que podría desencarnar, siempre he tomado dolorosamente consciencia de que el tramo compartido de nuestras vidas va a ser siempre demasiado corto. Pero los dos tendremos que aprender a no echarnos de menos demasiado cuando uno falte, sabiendo que todos los seres sintientes formamos parte de una gran familia que surge de la Inmensidad.
Siempre he amado a los animales,pero Emile me ha enseñado cómo ser un transmisor de ese amor y a saber que estamos en continuada deuda con estas maravillosas criaturas que ayudan a humanizar un planeta deshumanizado.
Se está recuperando en horas de esta nueva intervención. Es un rebelde, un saludable inconformista. Le gusta siempre mirar por los ventanales, ver el día hermosamente despejado, apreciar la luz que vuelve sus ojos aún más dorados. Ramana Maharshi amó inmensamente a los animales; lloró con lágrimas muy sentidas cuando murió su vaca Laskmi, cuyo túmulo he visitado varias veces en su ashram en el sur de la India.
Freud psicoanalizó durante años a sus pacientes en presencia de sus amados chow-chows. Mahavira caminaba con sumo tiento durante la época del monzón para no matar animalitos. Igual que la vida de los seres humanos es sagrada, lo es la de los animales. Matar animales por diversión denota una severa discapacidad mental y un corazón de acero. Ojalá llegara el día, como aventuraba Leonardo da Vinci, en que matar innecesariamente un animal fuera juzgado como un crimen.
Calle Ramiro

More than 50 years has been Calle Ramiro teaching yoga. He began teaching at home and created an Academy of yoga correspondence for all Spain and Latin America. In January of l971 opened its Yoga Center Shadak, that have already passed more than half a million people. His 250 published works include more than fifty devoted to yoga and related disciplines. He has made Yoga the purpose and sense of his life, having traveled a hundred times to India, the homeland of yoga.

Watch the Calle Ramiro Facebook:
https://www.facebook.com/pages/Ramiro-ACalle/118531418198874
Did you like this article?
Subscribe to our RSS so you don't miss anything