Yoga OnLine 14 class: Yoga Nidra
De nuevo presentamos a nuestros lectores una completa Clase de Yoga OnLine producida por la Escuela Internacional de Yoga, un regalo exclusivo para todos los lectores de Yoga en Red. Se trata de una clase guiada por el profesor Antonio Sánchez.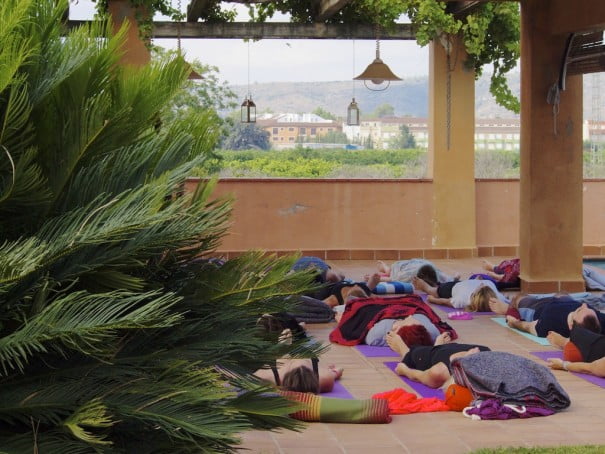 Una sesión de Yoga Nidra completa en la que se trabajan diferentes aspectos de esta práctica: Sankalpa, rotación de la conciencia, conciencia de la respiración, sensaciones opuestas y visualización.
Además de proporcionarnos estados de profunda calma mental, emocional y física, el Yoga Nidra supone por encima de todo una práctica espiritual en la que se guía al practicante a través de los sentidos y sensaciones externas hasta que, finalmente, la conciencia se acaba enfocando hacia el interior. De este modo, vamos buceando en las profundidades de la mente de manera consciente para ir conociendo nuestra verdadera naturaleza.
(Se recomienda el uso de un soporte debajo de las rodillas y de la cabeza).

Sobre Antonio Sánchez
Antonio es profesor de Hatha Yoga y Yoga Nidra y Formador de la Formación de Profesores de Yoga que imparte la Escuela. Siempre ha experimentado una necesidad profunda de búsqueda de calma y bienestar personal.
Compagina las clases de Yoga con su trabajo como Profesor de Secundaria y Formación Profesional, con la firme convicción de que la docencia va mucho más allá de la materia que se imparte y de que el Yoga en su esencia más profunda aparece allí donde nos encontramos, sea cual sea la tarea que se desempeña si se entiende la docencia como un acto amoroso de entrega y servicio.
This kinds of Yoga platform has been created by the international school of Yoga to get the learning and practice of the Yoga wherever you are.

Each week it incorporates classes of different styles with different objectives, so that you can move into your practice.

You can choose practices short of 30 minutes and complete more than one hour classes, as well as several levels that adapt to your practice. Also you can practice meditation and Mantras.

Sign up for free to get access to complete various kinds of welcome. Click on: Free registration
Did you like this article?
Subscribe to our RSS so you don't miss anything