Joy: the yogic attitude
To avoid mental distraction, the Yoga-Sutras they indicate an appropriate attitude that gives a daily State of peace: the internal joy. A distinctive type of joy that we can identify when we finish the yoga session with the natural decline of mental fluctuations. Carmen old writes.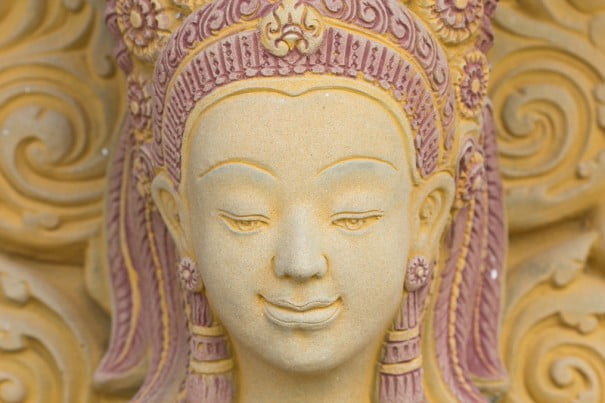 Then the practitioner can be recognized inside glimpses of its essential nature, not altered, basically "blissful awareness".
Joy. A sort of joy that no roars through manifested, but discreet, It collects itself. That draws a smile for no reason with which you have of your teammates practice. That takes you to walk, taking care not to break the silence, condurando it a little more, while enjoying Street, sunset, sounds, return home, feeling one and all at the same time.
Joy, not revelry. In fact, this joy is a rare bird that can scare off easily leaving the intimacy of the mat, and calling you shut up, listening to the natural sounds and protect it from sudden turn to talk, to the hustle and bustle, to hurry, to the sudden stimulation.
"Maitri karuna dopey apekshanam sukha modern punya apunya visayanam bhavanatah chitta prasadanam" (Yoga-Sutras I, 33)
In book I of the Yoga-Sutras, Patanjali defines the appropriate yogic attitude to keep a mind calm with four words:
Maitri: Friendship towards harmonious, as a natural attraction to that which emanates purity, healthy, what is in balance and not damaged.
Karuna: Compassion for the pain of others, as a brotherly heart making shared the penalty on the other, that makes us solidarity and empathetic.
Dopey: Joy towards virtue, as that capacity to discover and rejoice the multiple manifestations of goodness, of the positive, of tenderness, of peace every day.
And in the absence of virtue, says the Yoga-Sutra, apekshana: US warns of not mentioning the negative, dark, not be called sadness nor to the condemnation. Indifference? You'd rather look wise grandmother who warns done wrong in order to protect, not to look with love. That look capable of separating the reprehensible fact of the person, forgivable.
In the negative, as you would say Benedetti, "defend the joy": away from the insistence, of the sentence, making it the subject of conversation Tertullian as if it were more important than all the good that surrounds us, with this tiresome and contagious insistence that displays only an outlet for own frustration.
Joy, on the other hand. Inner joy and faith in the positive. Because as I said the grandmother of "Little tree", in the film of the same name, "so good grows and expands".
Carmen old heir (Ahimsa) It is a Yoga teacher, a degree in information sciences and entitled by the Yoga Vedanta Academy (School of Sivananda) and by the Spanish Association of practitioners of Yoga (AEPY).

Workshops and retreats in Granada. T 620549192 / ahimsayogandalucia@yahoo.es

Association for Nonviolence and the harmonious development of being human "Ahimsa top Andalusia"

Next meetings in Granada "Yoga and human values":

One day intensive workshops: Saturday, May 23 and June 13, Viznar (35 euros/workshop).
Removal of five or three days: from July 29 to August 3, in value (45 euros/day).
Stays for days: from 9 to 23 August, La Loma the Gualchos (35 euros/day).
Did you like this article?
Subscribe to our RSS so you don't miss anything