It controls your mind through the Prana
La respiración ocupa un lugar muy importante en la práctica del yoga. El prana está relacionado con la mente. A través de ésta con la 
voluntad. Si sabes cómo controlar las pequeñas olas de prana que actúan a través de la mente, conocerás el secreto de cómo controlar el prana universal. Es un texto del Centro Sivananda de Madrid.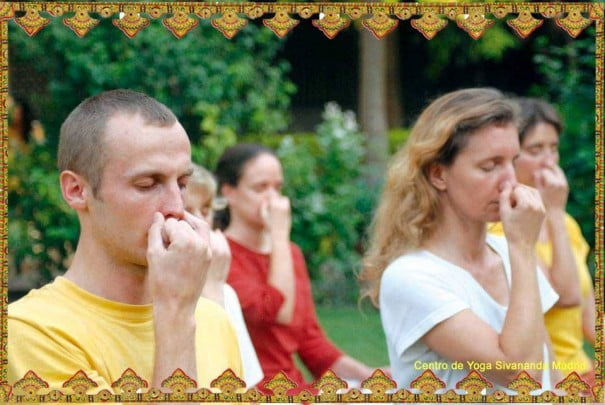 El yogui puede controlar también las corrientes nerviosas, las fuerzas vitales o las vibraciones del pensamiento. Lo que comúnmente se llama el poder de la personalidad, no es más que la capacidad natural de la persona de dirigir su Prana.
Algunas personas tienen más éxito en la vida y son más influyentes y fascinantes que otras personas. Todo ello se debe al poder de su Prana.
Empieza con este ejercicio de Pranayama de respiración alterna:
Siéntate en una postura confortable que te sea cómoda en un espacio tranquilo.

Cierra la fosa nasal derecha con el pulgar derecho.

Inspira muy lentamente por la fosa nasal izquierda durante tres tiempos.

Cierra entonces la fosa nasal izquierda con los dedos meñique y anular de la mano derecha y retén la respiración durante doce tiempos, cómodamente.

Suelta el aire muy lentamente a través de la fosa nasal derecha durante seis tiempos, después de retirar el pulgar.

Inspira entonces a través de la fosa nasal derecha contando tres.

Retén la respiración, como antes, contando doce.

Suelta el aire muy lentamente por la fosa izquierda hasta seis tiempos.
Estas fases constituyen una vuelta de la respiración alterna, uno de los ejercicios mas equilibradores de nuestra energía. 
Mantén la relación 1:4:2 empezando por tres tiempos para la inhalación, doce para la retención y seis para la exhalación. 
Empieza con cuatro vueltas por la mañana y cuatro por la tarde e incrementa el tiempo la práctica gradualmente.
Centre international de Yoga Sivananda Vedanta of Madrid

Did you like this article?
Subscribe to our RSS so you don't miss anything