Protect the Yoga
Ahora que abunda la rebeldía de babucha, guatiné (o forro polar) y wi-fi en la salita, ha llegado una vez más la hora de retomar y recordar el sentido común, lo lógico y lo sensato… También respecto al yoga. Escribe Joaquín G. Weil. Foto: FlorenPhoto.es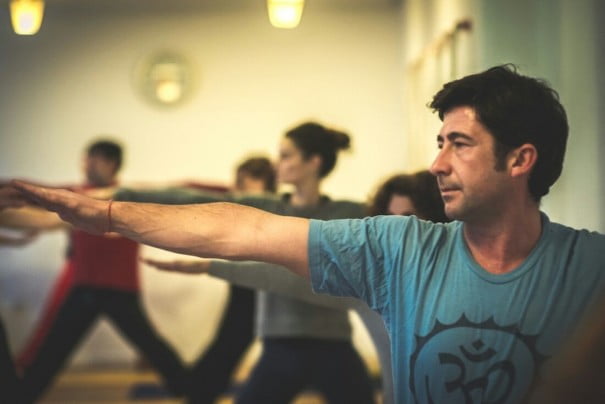 Lo que más sorprende a los que nos dedicamos a tratar con aquello tan delicado y digno del más absoluto respeto como el bienestar de las personas, es la necesidad de orientación elemental, y no me refiero a los principiantes, que de estos hay algunos bien sensatos, sino a algunos pretendidos profesores, por no hablar de los así llamados (y en ocasiones autocalificados) "maestros"; estos son los que necesitan tener más cuidado.
Hace poco alguien me proponía ayudarle a traer a Málaga desde India a un swami que quería "transmitir el Dharma" (ley o sabiduría universal). Sin conocer nada del swami, le propuse trasladarle la siguiente pregunta: Si transmitir significa llevar de un lugar a otro, ¿desde dónde hasta dónde quiere llevar el Dharma?
Para comprometerme en algo le adelanté mi respuesta: El Dharma nace de aquí y ha de llegar hasta aquí -dije señalándome el centro del pecho-. Desde el corazón hasta el corazón (para cada cual el suyo). El camino es bien corto. Aunque alguien podría pensar que incluso así es un camino largo…
Con frecuencia sugiero que deberíamos imprimir un cartel en letras mayúsculas con el lema "Sentido común", colocarlo sobre un altar con dos velas y hacerle reverencias o postraciones cada mañana.
La práctica del yoga que merezca tal nombre precisamente insiste en esto: pies en tierra, equilibrio y claridad mental. O sea, respectivamente, sentido de la realidad, sensatez y cordura.
Que los chicos y las chicas se diviertan practicando algo así como yoga sobre una tabla de surf, o colgados del techo, o aupados en malabares los unos sobre los otros, me parece (con las debidas precauciones) sano y ok. Y a los yoguis (de cierta edad) que les parezca mal, les recomiendo hagan el esfuerzo de evocar el ímpetu y el humor de sus propios tiempos mozos. Sin duda acordaremos que son mucho mejor estas actividades lúdico-juveniles que no andar de botellón en una plaza pública malgastando las horas, molestando a los vecinos y arruinándose la salud.
También veo mejor hacer un así llamado yoga en los fitness, que no apoltronarse en el sofá con un paquete de snaks de súper en una mano una burbujeante lata en la otra y una pantalla electrónica de insubstancialidades ante los ojos. Que se le quiere llamar a aquello "yoga deportivo" en vez de yoga/yoga, pues vale.
El verdadero perjuicio para el yoga es el de esos falsos y pretendidos profesores y maestros que se ciegan con esa tríada de venenos para la mente, que son: avaricia dineraria, orgullo o vanidad y sexualidad abusadora y egoísta (y lo peor, generalmente los tres a un tiempo).
También es destacable para cualquiera que quiera o pretenda ser profesor de yoga (por no hablar de los maestros) la necesidad de cortesía, respeto y cordialidad en su trato habitual y sobre todo con los estudiantes de yoga. No debe ocurrir que por pretender lo superlativo, nos olvidemos de lo básico y natural. Porque, como decían nuestros abuelos, se comienza delinquiendo y, al final, se acaba teniendo malos modales en la mesa.
Voy a decir algo que es raro de leer o escuchar hoy en día: principalmente para los buscadores de la verdad, para los aventureros del conocimiento de sí (y también para todos las personas), lo principal, la base de todo es la búsqueda del bien. Averiguar qué es el bien y qué es lo bueno (para ti y para los que comparten contigo los días). Y el yoga que merezca tal nombre es bueno (ha de serlo).
Yama y niyama, principios orientadores de la moral yóguica (y universal), son partes irrenunciables y básicas del verdadero (sí, verdadero) yoga. Quien no tiene claro estos principios o los inclumple, o ha recibido supuestamente su aprendizaje de quien los inclumple, entonces desde toda lógica y en ningún caso puede enseñar yoga.
Proteger el yoga es proteger a quienes lo practican y en particular a los que al yoga por vez primera se acercan. Esto es lo ético y lo sensato. Es de sentido común.
Who is

Joaquín García Weil He graduated in philosophy, yoga teacher, Yoga room Malaga and pedagogical coordinator of the first course with official accreditation in Spain. Practice Yoga for 20 years and teaches it since makes eleven. Is student of the Swami Rudradev (disciple interest of Iyengar), with who has learned in the Yoga Study Center, Rishikesh, India. He has also studied with Dr. Vagish Sastri de Benarés, among other masters.

More information:

https://www.facebook.com/yogasala.malaga

http://yogasala.blogspot.com.es/2014/09/1-formacion-de-instructor-en-yoga-segun.html
Did you like this article?
Subscribe to our RSS so you don't miss anything