Myth and symbol in Asana, price free workshop
More and more schools of yoga include events free price or voluntary contribution in their programmes, as a form of karma yoga in these difficult times. Aushadhi School of Yoga has made a special effort to provide very useful for the yogic community workshops during the months of March, April and June, and offers all the formula of "free money". The next will take place on Saturday, March 21 and will deal with the mythology and symbology that is hidden behind the Yoga Asana. We explain what it is.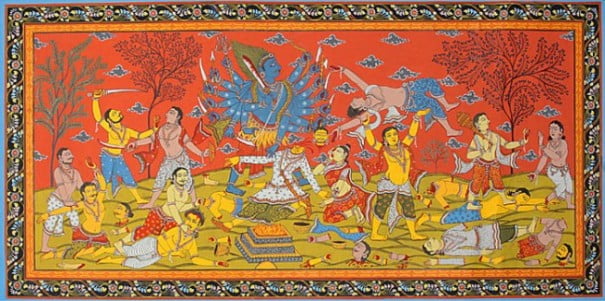 "First of all - States Swatmarama, author of the classic Hatha Yoga Pradipika (s. XV) - is Asana, one of the members of the hatha yoga system; the practice of asana free disease, seeks strength in body and mind and lightness in the members".
The asana practice today has such acceptance in the field of Yoga that is practically given an identification between yoga and asana. Is never more recall, then, asana, as we know it today, as body work system, is result of the development of one of the limbs of Yoga according to a particular vision of the twinned with Tantra, this is, Hatha Yoga, whose literary tradition polls from the 11TH or 12TH century with the Goraksa-Shataka, as one of the oldest texts, whose authorship is attributed to the mythical Goraksa, of which it is said was its founder.
Asana, "posture" in the practice of body-yoga or yoga of the force, was not always what it is today; the etymology reveals its ritual origins. In the dictionary of Sanskrit Capeller 1891 found a first meaning: "Sit in a particular position in accordance with the customs of the devotees".
While back in the change of era the wise Patanjali He wrote simply on asana has to be "firm and comfortable", Gosaksa centuries later reveals that there are many asanas as creatures on the planet and that only Mahesvara (the great be) knows them all, although it mentions only two in his treatise. With the emergence of the system of hatha yoga, asana acquires more complexity and presence in the practice of Yogis and yoginis. Some of them described in the classics Hatha Yoga Pradipika, Gheranda Samhita o Shiva Samhita and making a great leap in time, Iyengar, a disciple of the considered by many father of modern Yoga, KrishnamachariaDescribes more than 200 positions.
Outside their country of origin, the asana kept the names that you have been given, names that refer to the plant world, heroic warriors, great sages or avatars of gods: Lotus, snake, mountain, Eagle, Swan, fish, Lion, wheel, Arch, the goddess, dance, the Warrior, the Monkey King... Behind this lies a mythological universe full of stories, symbols and teachings. A universe sometimes terrifying, overwhelming, sublime, always inspiring.
In this Conference we propose March 21 We will make a brief journey through the history of the asana yoga, We will try the myth and the symbol found after multiple poses, for through them, discover a rich tradition of enormous strength wise.
The intention to talk is not only instructive but especially will try to convey the so-called perennial wisdom underlying the mythological and symbolic world of the Hindu tradition that feeds the yoga.
Program
1. Introduction: Myth and symbol as sources of knowledge.
2. brief history of the Yoga Asana.
3 myth and symbol in asanas selected.
4. conclusion.
It teaches: Marta Espeita. It starts in yoga in 2004. Since it is formed with masters of the tradition of Yoga Integral of Swami Satyananda (SW. Digambar, SW. Nishchalananda, SW. Gyandharma, Swi. Radhananda) in numerous seminars and retreats. It also explores other visions and relevant schools especially in working with the body (Iyengar, Pattabhi Jois, Leslie Kaminoff, John Friend, Godfrey Devereux, Gustavo Ponce, Feldenkrais), as well as the secularized version of Buddhist meditation known as Mindfulness.
Is dedicated to the teaching of Yoga from year 2011 Aushadhi School of Yoga, which is co-organizing together with Eva Espeita left (Swni. Radha) and Victor G. Cruz (Mrityunjaya). Teaches regular hatha and raja yoga and courses of deepening as the "Antar Mouna meditation course-Sadhana" and "Self-management for the practice of Hatha Yoga", partner and co-organizer in intensive seminars and retreats.
It simultaneous dedication to the study and teaching of Yoga with activities of design and Visual Arts. Degree in fine arts from the Complutense University of Madrid in 2001. In 2010 he obtained the Diploma of advanced studies in the area of Indo-European linguistics and are presently doing her thesis in the program of doctorate of Sciences of religions at the University Institute of Sciences of the religions of the Complutense University of Madrid, where researches of history, art and thought in Hinduism and Buddhism and on intercultural dialogue East-West. We are interested in and follow investigations and discoveries that address newly born contemplative neuroscience.
When: Saturday 21 of March, 17:30 to 20:30 h
Where: Aushadhi Yoga school. Paseo de las Delicias 47-51 (pedestrian passage) Madrid (underground Palos de la Frontera, Renfe Atocha and delights)
More information: http://www.aushadhiyoga.com
A workshop of free price

Free price is an alternative economy system whereby each person decides, from freedom and honesty, how can and want to pay for a good or service that enjoys, as one conscious autoimplicacion, a voluntary contribution to the project in question to that of what has enjoyed can continue to exist in the future (in Aushadhi case, study and dedication of three people who taught courses, as well as the use and expenditure Aushadhi space). Free means free, each decide from freedom and honesty.

Practice responsible for the free price however if entails, in this case, certain elements to develop in the most optimal way:

Commitment and responsibility. For reasons of space, the places in courses limited, so we ask that if you can not attend after sign up, that contact us with time to give your place to another person.
Freedom and transparency. Freely decides your contribution, with awareness of the exercise of such freedom.

Keep in mind that with this system there is a spontaneous redistribution: If you have little money you won't be excluid @; If you have more you can pay a price that you consider fair and even, compensate (as a "donation") for people who cannot afford to pay a lot, thus supporting the survival of this type of initiative (whose existence depends on, to a large extent, how it responds to the responsible use of the free price). In addition, you can also propose direct remuneration non-monetary (bartering of any good or service that you can give us as a way of thanks for your learning).

More information and booking: contacto@aushadhiyoga.com T 915 391 669 /http://www.aushadhiyoga.com/
Did you like this article?
Subscribe to our RSS so you don't miss anything