OnLine 10 yoga classes: awaken our inner fire
Nos complace presentar la décima Clase de Yoga OnLine producida por la Escuela Internacional de Yoga que
Yoga network
ofrece como regalo exclusivo a sus lectores. Se trata de una clase guiada por el profesor Jorge Cabellos.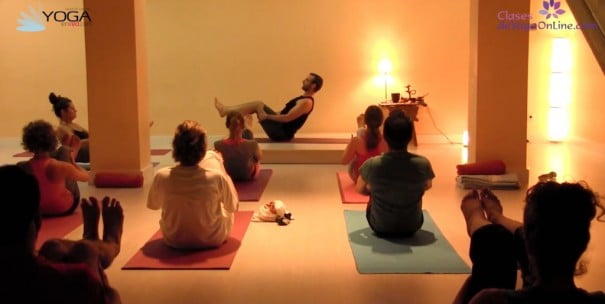 Energética práctica para despertar nuestro "agni" (fuego) interno a través de posturas que demandarán de nuestra actividad abdominal en Utkatasana y en una progresión hacia Navasana.
It says Jorge Cabellos: "Para mí el Yoga es una vía que nos ayuda a conectar con el poder personal latente dentro todo ser humano, el poder de cambiar y de mejorar: de cambiarse y reinventarse a uno mismo, y de reinventar y mejorar el mundo en que vivimos. El Yoga nos facilita contemplar nuestra experiencia en la vida como una oportunidad continua de disfrutar con cada aprendizaje vital y de fluir con cada cambio."
Jorge hair es profesor de Flow Vinyasa y Power Yoga en la sede central de la Escuela Internacional de Yoga en Madrid y Coordinador de la Formación OnLine de Profesores de Yoga.

More information: http://www.clasesdeyogaonline.com/category/profesores/jorge-cabellos/

This kinds of Yoga platform has been created by the international school of Yoga to get the learning and practice of the Yoga wherever you are.

Each week it incorporates classes of different styles with different objectives, so that you can move into your practice.

You can choose practices short of 30 minutes and complete more than one hour classes, as well as several levels that adapt to your practice. Also you can practice meditation and Mantras.

Sign up for free to get access to complete various kinds of welcome. Click on: Free registration
Did you like this article?
Subscribe to our RSS so you don't miss anything