Viaje a Chiang Mai, corazón cultural de Tailandia
Del 10 al 26 de abril de 2015, Boom Shankar Viajes te invita a viajar al corazón cultural de Tailandia, la hermosa ciudad de Chiang Mai. Una oportunidad única para aprender Masaje Tradicional Tailandés, sumergirse en budismo y meditación, visitar bellos templos y entornos naturales únicos, disfrutar de una exótica gastronomía, de la amabilidad del pueblo tailandés o vivir Songkran "el Año Nuevo Thai"…Escribe Sita Ruiz. Foto: Jose Ferrer.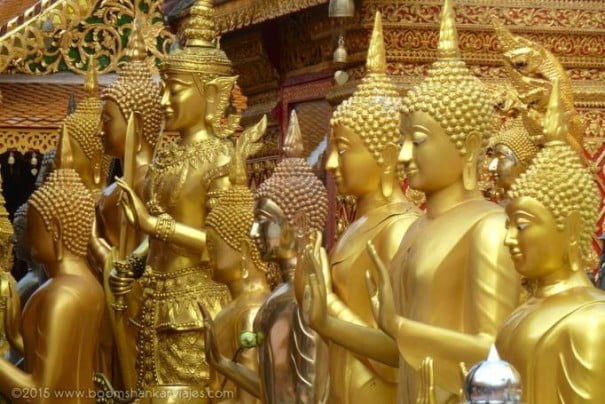 The Escuela de Masaje Tradicional Tailandés Nuad Boran, La Otra Tailandia and Boom Shankar travel nos hemos unido para acercarte a la sabiduría, tradición y exotismo de Tailandia a través del Masaje Tradicional Tailandés, como punto de partida del viaje.
Nos instalaremos en una de las ciudades más bellas e importantes del país: Chiang Mai, bautizada como "La Rosa del Norte". Esta pintoresca población bañada por el río Ping, y fundada en el siglo XIII por el Rey Mengrai, fue capital del antiguo Reino de Lanna y su herencia histórica, artística y cultural, junto con su exuberante naturaleza y privilegiada ubicación, la dotan de un encanto único.
Durante 16 días, aprenderemos Massage traditional Thai en la única escuela de Tailandia que imparte cursos en español de la mano de David Vilches and Oi Khongsaenkham.
Acompañaremos a los monjes de Wat Suan Dok, que nos hablarán de Budismo Theravada y nos enseñarán técnicas de meditación. Visitaremos importantes templos budistas, descubriremos pequeñas aldeas y entornos naturales mágicos, conoceremos sorprendentes y llamativos mercados, disfrutaremos de una exótica y variada gastronomía, nos sorprenderemos con la colorida artesanía del norte y además tendremos la oportunidad de celebrar y participar en una de las festividades tailandesas más importantes: "SongKran"the Año Nuevo Tailandés.
¡Una forma original, diferente y cercana de conocer Chiang Mai!
¿A quien va dirigido?
Profesionales del masaje pero también a todas aquellas que quieran iniciarse y adquirir nociones básicas de Masaje Tradicional Tailandés.

Personas que se sientan atraídas por la cultura tailandesa.

A quienes les apasione viajar y quieran conocer Chiang Mai y acercarse a Tailandia, desde un punto de vista diferente.
Condiciones generales: El precio es de 980€. Grupo de 8-10 personas. Vuelo internacional no incluido.
Includes:
Seguro de Viaje.

Alojamiento (Habitación Doble).

Curso de Masaje Tailandés en español (50h).

Profesores Certificados de Masaje Tailandés (en español)

Diploma acreditativo de la ATNB.

Curso de Introducción al Budismo y Meditación (2 días).

Traductor en español para el Curso de Budismo y Meditación.

Guía local (en español) durante las visitas y excursiones.

Guías-acompañantes españoles durante todo el viaje.

Mini-van con conductor propio y aire acondicionado para traslados.

Entradas a templos y monumentos.
¡Fecha límite para apuntarse: 6 de marzo de 2015!
Si pinchas aquí, podrás solicitar el dossier del viaje donde encontrarás todos los detalles así como el programa completo del curso de Masaje Tradicional Tailandés.
More information and reservations:
Boom Shankar Viajes. T 910 840 652 – 620 916 039 / info@boomshankarviajes.com
Did you like this article?
Subscribe to our RSS so you don't miss anything