Meeting AEPY / water Yoga
¿Un nuevo invento… o el origen del yoga? ¿Comenzaron los ásanas dentro del agua? ¿Qué ganamos frente a la práctica en el suelo?
Este apasionante tema se impartirá en el próximo Encuentro Nacional que la AEPY organiza en el Balneario de Jaraba, en Zaragoza, los días 27 y 28 de febrero y 1 de marzo de 2015.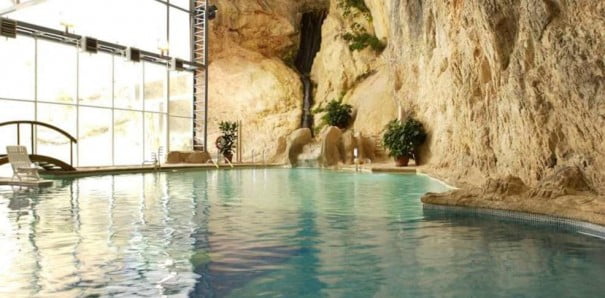 El origen de la vida ocurrió en el agua: materia orgánica que se organiza en las zonas cercanas a la costa, con agua tibia o bien en el origen de las fuentes calientes submarinas. De pequeñas bacterias y células se pasa a grupos de ellas: plancton, medusas… De ellas a organismos diferenciados: peces, serpientes acuáticas, anfibios y salida a la tierra, mamíferos como el gato o el león, aves: el pavo, el águila… y vuelta al agua: delfines… y de nuevo salida y los homínidos… Pero ¿hemos salido del todo o todavía somos bastante anfibios?
Nuestro origen de vida también se da en el agua del útero materno…
Madre y mar… Tan cercanas… ¿Se diseñaron los ásanas ya en tierra o se comenzaron a realizar en el agua? ¿Hay ásanas diseñadas para realizar solo en el agua y por eso suponen tantos desafíos a nuestro organismo en tierra?
Los primeros habitantes del Valle del Indus, se llamaban así mismos Minad, el pueblo del Pez. El primer avatar de Vishnu en la tierra es como el pez …
El yoga fue transmitido de Shiva to Parvatti en secreto, pero un pez, Matsya, lo escuchó y fue a llevar el mensaje al hombre. Cuando llegó, él mismo se había transformado en humano y Shiva le perdonó.
Dicen los astrofísicos que somos polvo de estrellas cultivadas en el mar oceánico; sopa cósmica de estrellas.
El camino del yogui es volver al origen, recorrer nuestra evolución en camino inverso, una re-volución que nos transforma de dualidad y sufrimiento en unidad, y mucho de ese pasado ocurrió en el agua.
¿Lo podemos recorrer de la mano del yoga en el agua? Esta es la pregunta y la propuesta que será conducida por Pilar Luna.
Además el programa de este Encuentro de AEPY se completa con diferentes talleres y prácticas bajo el título: Hatha-yoga, vía de purificación:
Haṭha yoga Pradīpikā (HYP)

como ciencia integradora basada en las

Upaniṣhads.

Corporizar actitudes psíquicas en la práctica de ásanas.

Una aproximación al Haṭha yoga, desde sus inicios hasta nuestros días.

El acceso al samādhi en la HYP y su culminación en el rāja-yoga (I) – (II)

Conocer, aceptar e integrar el mundo emocional en el propio cuerpo: trāṭ.

¿Purificarse o desintoxicarse? Los textos clásicos, especialmente la HYP.

La esencia de los bandhas y el poder purificador del prāṇāyāma.

Aplicación pedagógica de la

Haṭha yoga-Pradīpikā,

experiencia desde el ásana al samādhi.
Ponentes: Manuel Morata, Conchita Morera, Pilar Inigo, Pilar Luna, Gemma Vidal, Ramon Muntanyola and Angel Peiró.
Y por las noches, kīrtans; abrir el corazón al canto… Un fin de semana completo.
Os esperamos.
More information on www.aepy.org

Did you like this article?
Subscribe to our RSS so you don't miss anything