My life outside of the mat
Templo significa trozo de cielo, se entiende sagrado. Imagínate un contorno de cielo trazado por piedras primitivas, un dintel en círculo. La esterilla de yoga para nosotros es un trozo de suelo, igualmente sagrado, sí. Escribe Joaquín G. Weil. Foto: Toni Otero (en la imagen Emma Fry)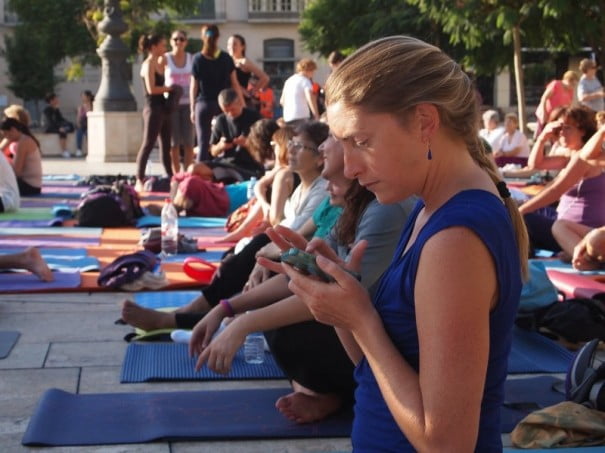 Me recuerdo paseando por Pahar Ganj en mitad del estrépito de Nueva Delhi; ya se sabe, motocarros, vacas sagradas, paisanos, policías, soldados, niños al cole, mendigos, motoristas, turistas, ciclistas y algún que otro elefante. Y allí, un poco más allá, al final, pasando los bazares, hoteles y chiringos, encontraba un remanso en el templo de la Ramakrishna Foundation.
En ocasiones nuestra vida es así: un tremendo estrépito o confusión de la batalla de la vida, a veces pacífica, donde somos como guerreros (y guerreras) en busca de un santuario donde velar las armas de nuestra práctica: concentración, atención, paciencia, ecuanimidad, mesura, dulzura…
Necesitamos con apremio que suene el gong, la campana, el sat namthe om namo shivaya, traspasar el umbral del suelo sagrado donde estemos por un rato a salvo de la lucha y podamos recomponernos y restañar las heridas.
Tal era para mí aquella moqueta verde y aquellas viejas yogamats celestes del Centro Amithabha de la excelente profesora Concepción Ruiz (honor a nuestros primeros maestros) cuando conocí el yoga por vez primera. Y luego, años después cuando viajé al Amazonas o a los Himalayas, o a donde quiera que fuera, igual la esterilla o la manta doblada que usaba como cojín de meditación me hacían retornar a casa de modo inmediato y mágico, y no a cualquier casa, sino a mi verdadera casa, mi propio centro, un lugar para hallarme y encontrarme en mi prístino equilibrio.
Since then mi esterilla de yoga ha sido siempre mi templo, allá donde la extendiera, mi confidente y mi oráculo, el sitio santo donde obtener el consejo sagrado, donde dilucidar mis dilemas, donde sintonizar con la intuición y la luz que me guían.
Finalmente, quien visita con frecuencia el templo acaba comprendiendo que las paredes y puertas del recinto son translúcidas, y que por la fuerza de la práctica y la oración el templo acaba desbordando los muros que lo delimitan, y se extiende por todo el orbe. Igual hasta los lugares más humildes y hostiles son capaces también de alojar los dioses tutelares. Como los altares que puedan elevarse en las selvas, desiertos, cumbres o campos de batalla.
Así después de acendrar nuestro cuerpo y nuestra alma durante la práctica sobre la esterilla, nos relajamos, cantamos el om y nos vamos a casa con la energía y la relajación puestas. Al principio el yoga es una simple pintura lavable adherida a nuestro cuerpo; al cabo de los años se convierte en un indeleble tatuaje.
El pie sale de la esterilla pero sigue siendo firme. El pulmón que ha exhalado el om continúa respirando amplio. El músculo y el hueso que no temblaron durante el difícil equilibrio también se mantienen firmes en los apremios de los días. Y la mente acaba por recordar que no debemos ceder al arrebato de las emociones primeras. La respiración no se deja arrastrar por el pensamiento apresurado. Sobreviene el recuerdo de la paciencia. Y nos acercamos un paso más hacia la verdadera Libertad.
Honor y gratitud a todos los rishis y maestros que crearon y han transmitido de generación en generación esta bendita práctica que es el yoga.
Who is

Joaquín García Weil He graduated in philosophy, yoga teacher, Yoga room Málaga director. Practice Yoga for 20 years and teaches it since makes eleven. He is a student of Swami Rudradev (leading disciple of Iyengar), with whom he has learned in Yoga Study Center, Rishikesh, India. He has also studied with Dr. Vagish Sastri de Benarés, among other masters.

More information:
Did you like this article?
Subscribe to our RSS so you don't miss anything