Certificate of instruction in Yoga: links and first questions
Como ampliación de la información que venimos ofreciendo sobre el
Certificate of professionalism in instruction in Yoga
, os ofrecemos estos interesantes enlaces en los que diversos expertos han volcado información.Y también las primeras preguntas dirigidas a quienes estén en disposición de contestarlas. ¡Gracias a todos!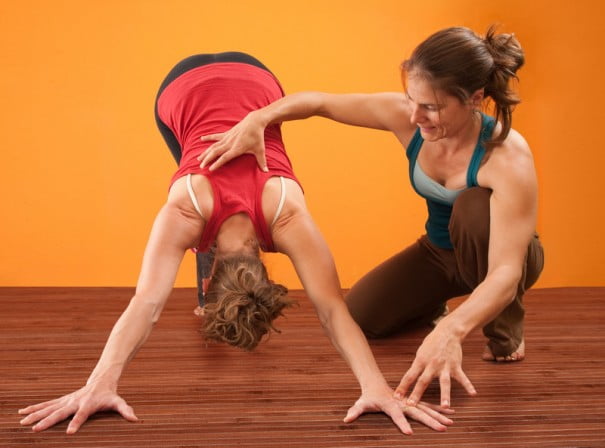 http://www.aepy.org/imag/ACREDITACIO/articulo%20acreditacion_socios.pdf
http://www.aepy.org/index-acreditacion.html
http://yogasala.blogspot.com.es/2014/09/novedades-entorno-al-curso-de-formacion.html
http://www.sivananda.org/madrid/pdf/cualificacion-boe-sivananda.pdf
http://federaciocatalanaioga.blogspot.com.es/2013/06/que-es-el-certificado-de.html
Preguntas recibidas en la redacción
Rogamos contestación por parte de quienes quieran ayudar a aclarar las cuestiones que plantean estos compañeros:
Pregunta O. Montero:
"Me gustaría que se explicara lo que realmente regula este decreto y lo que no. El decreto regula la certificación de un título, pero no regula la actividad profesional. Me gustaría que explicaran esto más en profundidad. Muchas gracias".
Pregunta de Nuria:
"I have done the 500 hours of training in the international Yoga school in Madrid. When I saw the publication in their journal of the official certification of the UPM got in contact with them to see if there was a possibility of the recognition of studies, but it seems that this option only is possible if officially certified modules are validated.
Mi inquietud es si hay o habrá alguna forma de obtener la certificación oficial con esta formación o si por el contrario habrá que realizar nuevamente una formación oficial con el coste en tiempo y dinero que supone. Entiendo que todos los profesores que actualmente están dando clase se verán con este mismo problema, pero por el momento no parece haber mucha claridad.
Muchas gracias por abrir la posibilidad de estas preguntas e inquietudes que seguro que son comunes a muchas personas".
Pregunta de Jose:
"We have a training in a private Centre will have the opportunity to validate it in any way?".
Pregunta de David:
"¿Es posible conseguir el certificado de profesionalidad de instrucción en yoga actualmente en Madrid? 
Si es así, ¿cuál es la dirección de los centros homologados por la administración pública para obtener dicho certificado?".
Pregunta de Eduard:
"What specific disadvantages, at the time of finding employment, has a trained at a private Center yoga instructor regarding one formed in a centre approved by the public administration?"
What associations related to yoga are dealing with this topic and what are its objectives and accomplishments?
¿Si existen, cuáles son los centros homologados por la administración?
¿No tendrían que convalidarse los títulos de las principales asociaciones con los oficiales de instructor?
Ofrecimiento de Olga Jiménez y Julio Gallego
"Os escribo en nombre de la UPM, Universidad Politécnica de Madrid, para la que actualmente voy a trabajar como profesora en el próximo curso de Instrucción en Yoga con titulación oficial, todos los detalles del curso ya están colgados en vuestra web. Somos Julio Gallego y Olga Jiménez los profesores de yoga que vamos a impartir esa asignatura del curso. Estamos trabajando con un magnífico equipo que es el que ha conseguido todo el pesado papeleo para obtener la certificación oficial del sitio y en consecuencia la autorización para que el curso sea oficial. Se realizará en la Escuela de INEF, dentro de la Universidad. Estaremos encantados en resolver dudas al respecto. Nosotros también hemos encontrado mucha confusión y muchos casos de cierto engaño e información a medias. Un saludo y esperamos seros de ayuda". ecolibor@hotmail.com
"Soy Julio Gallego, el profesor que ha sido seleccionado para impartir la parte específica de yoga del curso de "Instrucción en Yoga con Certificado de Profesionalidad Oficial que organiza la Universidad Politécnica de Madrid.
Como tal, contad conmigo para responder a cualquier pregunta o aclarar las dudas que podáis tener con respecto al mismo". julio_gallego@hotmail.com

Did you like this article?
Subscribe to our RSS so you don't miss anything