8 OnLine Yoga classes: Practice for opening the hips
Nos complace presentar la octava Clase de Yoga OnLine producida por la Escuela Internacional de Yoga que
Yoga network
ofrece como regalo exclusivo a sus lectores. Se trata de una clase de Hatha Yoga guiada por la profesora Rebeca Carretero.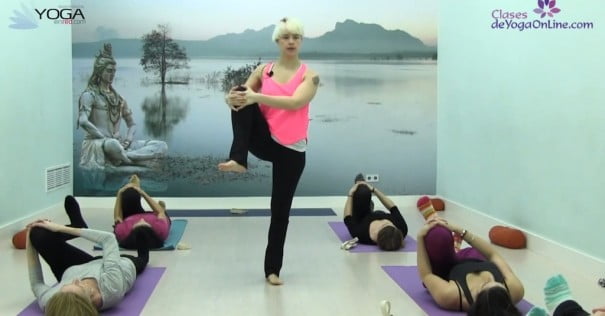 Se trata de una práctica de Hatha Yoga donde trabajaremos la apertura de caderas primeramente en descarga, con cinturón, y posteriormente de pie, con un suave Vinyasa, hasta llegar a la postura que será nuestro objetivo, una variante de Rajakapotasana en flexión hacia delante.
Acabaremos con una postura restaurativa que seguirá trabajando pasivamente la apertura de caderas.
Material recomendado: un cinturón, dos cojines y una manta.
Rebecca Carter
Es Coordinadora General de la Escuela Internacional de Yoga.
Profesora de Yoga titulada en la Escuela Internacional de Yoga y certificado por la Yoga Alliance, la European Yoga Federation y la Federación Española de Yoga Profesional. Ha terminado su formación con el Master de Yoga Dinámico impartido por la Escuela Internacional de Yoga así como con el Master Residencial (Precisión, Integración y Conciencia) también impatido por la Escuela Internacional de Yoga en su modalidad residencial. Actualmente sigue su formación como Formadora de la Formación de Profesores de Yoga en la Escuela Internacional de Yoga.
Practicante de Hatha Yoga, Yoga Dinámico y Asthanga. Sus clases están llenas de sensibilidad caracterizadas por la atención en la conexión consciente entre el movimiento y la respiración del alumno, creando una meditación activa en cada clase.
Rebeca es Naturopata y Reflexóloga Podal. Su pasión por el Ayurveda la ha llevado a formarse como masajista y a realizar multitud de cursos sobre alimentación ayurvédica, tratamientos ayurvédicos y cocina india.
Estudió Administración y Dirección de Empresas en la Universidad Carlos III de Madrid.
Esta plataforma de Clases de Yoga ha sido creada recientemente por la Escuela Internacional de Yoga para acercarte el aprendizaje y la práctica del Yoga allá donde te encuentres.
Each week it incorporates classes of different styles with different objectives, so that you can move into your practice.
You can choose practices short of 30 minutes and complete more than one hour classes, as well as several levels that adapt to your practice. Also you can practice meditation and Mantras.
Sign up for free to get access to complete various kinds of welcome. Click on: Free registration

Did you like this article?
Subscribe to our RSS so you don't miss anything