Ocho años de congresos, ocho años de difusión
El próximo 19 de septiembre arrancará la octava convocatoria del Congreso de Yoga de la Costa del Sol, congreso que sentó las bases de la independencia a federaciones, empresas privadas y linajes para poder invitar a escuelas de todas las líneas clásicas y contemporáneas del yoga.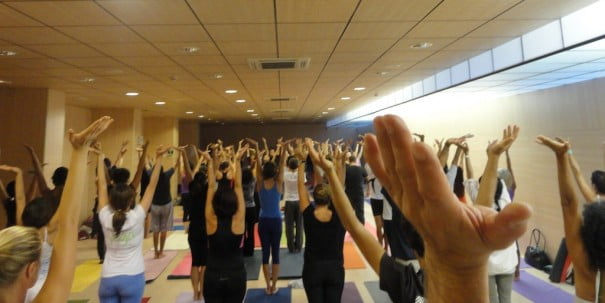 Un conjunto de entidades sin una relación necesaria entre ellas, con su propio concepto de hacer las cosas por sí mismas y no por sus frutos, es decir, devolver al yoga lo que aporta mostrándolo de forma gratuita.
A lo largo de esos años el Congress of Yoga of the Costa del Sol ha mantenido una estructura exitosa constatada por la avalancha de eventos similares que han seguido fielmente el diseño organizado por su fundador, Victor M. flowers, al que muchos llaman aún Senge: varias salas funcionando paralelamente con clases ininterrumpidas a lo largo de tres días, junto a un salón de actos con espectáculos.
Gracias a esta fórmula cada año son más de mil visitantes los que se reúnen en Marbella al comienzo del otoño, llegando a la cifra de 2.200 personas en el año 2008.
Víctor M. Flores renunció a continuar con la organización en su séptima convocatoria, delegando la responsabilidad en Belinda Christensen, la directora ejecutiva de su laboratorio de investigación y difusión, el Yoga Studies Institute.
Otra de las características del Congreso es la prioridad que da a centros y profesores residentes en el país, con el ánimo de promocionarlos, pero incluyendo en su cartel a varios maestros consagrados de esta disciplina. Esto nunca ha impedido que, a su lado, compartan el cartel profesores primerizos recién llegados de India con su título bajo el brazo o aquellos que recién acaban de abrir una modesta yoga-shala en su barrio.
Durante siete años se ha contado con la presencia del escritor orientalista Calle Ramiro y figuras internacionales. Este año repetirá la profesora de Jivamukti, conferenciante de la Universidad Omega y master en cocina crudivegana Ximena Gutierrez, desde Alemania.
Contaremos en el apartado internacional con Lori Meyer, desde Canadá, y desde Venezuela el maestro Jai Gurudev. Como invitado especial estará con nosotros, como homenaje debido, Víctor M, que vendrá desde Nicaragua para impartir un taller de sinergias y antisinergias musculares, la presentación del curso de formación de profesores y el cierre del Congreso. Permanecerá en nuestro país realizando una tourneé de yoga que le llevará a tierras extremeñas, valencianas y mallorquinas.
Entre las habituales estarán las siempre reclamadas Lori Sjollema, Petra Lindros and Carola Polo, representando los linajes Anusara, Vinyasa Flow e Iyengar. Se estrenan Carla Sánchez, Cándida Vivalda, Szilvia Korosi o Cosmin Iauncu, entre otros muchos. No olvidamos el apartado infantil, con dos talleres, ni las meditaciones a cargo del lama Kenpo Ngedon Rigdro, y como novedad incluimos un espectáculo humorístico titulado 'Vete a tomar conciencia', además de la música trascendental del Rincón del Tíbet.
Si quieres conocer el programa compleo visita www.congresosdeyoga.com

Did you like this article?
Subscribe to our RSS so you don't miss anything