Would you like to be Rainbow Kids Yoga teacher?
¿Quién no desearía saber transmitir las maravillas del yoga a los niños? Rainbow Kids ofrece, de nuevo este año, su exitosa Formación de Profesores de Yoga para Niños y Familias. En Madrid, del 11 al 13 de julio, con la gran experiencia de Cayetana Ródenas.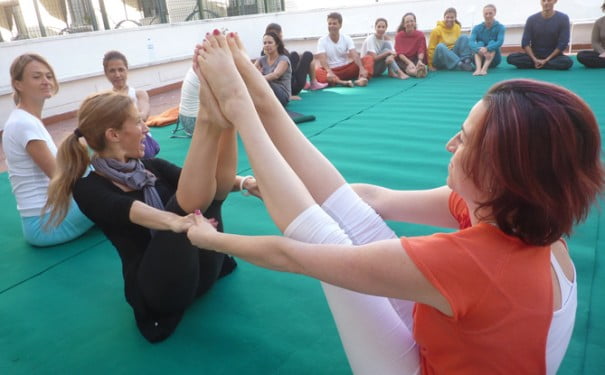 El curso para profesores de tres días de Rainbow Kids Yoga es una formación certificada, intensiva y práctica. Una oportunidad para practicar y aprender a enseñar yoga de una manera efectiva y real, mientras te ríes, bailas, juegas y cantas.
Este formación integra teoría, práctica, debates y ¡mucha diversión garantizada! Lo más importante es que saldrás de ahí con un conocimiento tangible e ideas fantásticas que te servirán para crear experiencias originales, cautivadoras y divertidas de yoga, para niños de todas las edades en el mundo entero.
Son cursos llenos de herramientas prácticas para crear imaginativas y alegres clases de yoga que atrapan la atención de los niños y cautivan los corazones de sus padres. No es, en absoluto, simple juego y pasatiempo superficial. Por el contrario, incluyen gran cantidad de información para garantizar que salgamos con abundantes conocimientos e ideas creativas.
A quiénes interesa
Le puede interesar a cualquier persona que ame trabajar con niños y ame el yoga. Más específicamente, se recomienda a profesores de yoga que se quieran especializar y a educadores que deseen introducir los beneficios de la yoga en sus aulas.
Los padres que quieran compartir una actividad sana, educativa, divertida y no-competitiva, encontrarán nuevas maneras de conectar con sus hijos en familia. También es beneficioso para que cualquier persona aprenda nuevos recursos pedagógicos que colaboren a crear un mundo mejor.
Los titulados Rainbow Kids pueden enseñar con su diploma en escuelas, guarderías, centros comunitarios, centros de yoga, gimnasios, fiestas de cumpleaños y de manera privada.
El certificado de Rainbow Kids Yoga es reconocido por la UK Yoga Alliance y sirve para obtener créditos de formación continua por parte la US Yoga Alliance.
Algunos temas del curso
Estructura de clase por edades, desde infantes (1 a 5 años) hasta adolescentes (18 años).

Consejos e ideas para guiar las clases y para cohesionar los grupos.

Yoga para niños con necesidades especiales.

Crear una clase de Yoga Familiar (para padres y niños).

Sacar rendimiento a tu actividad de manera yógica y efectiva.

Descubrir tu estilo y tus recursos para enseñar…
Algunas cosas que aprenderás
A hacer el yoga divertido para todas las edades.

Más de 350 posturas de yoga para niños.

Montones de juegos creativos de yoga.

Ejercicios y juegos de de Respiración y Meditación para niños.

Meditación Guiada y otras técnicas de relajación.

Acrobacia en pareja, Pirámides Humanas, AcroYoga y otras maneras de hacer divertido el yoga.

Yoga para Niños y Adolescentes y Yoga Familiar y Comunitario.

Masaje Thai y otras maneras para conectar, dar y recibir.

Experiencia en docencia…
Quién, cuándo y dónde
It teaches: Cayetana Rodenas, profesora de yoga que suma muchos años de experiencia en el método Rainbow Kind, dentro y fuera de España.
Fechas y horas: 11 y 12 de julio de 10:00 a 19:00
13 de julio de 9:00 a 18:00
Where: RKY y Yoga&Arte. C/ Joaquín María López, 10 Madrid T 915 540 670
More information: http://rainbowkidsyoga.net/trainings/madrid/madrid_training.html

Did you like this article?
Subscribe to our RSS so you don't miss anything