Learn yoga therapy (of truth)
Most of the health problems that lead people to the yoga classes have to do with the back, shoulders, knees... Today, to teach yoga safely more than notions of yogaterapia are needed. This course, taught by Isabel Morillo in Padmasana Center, It ensures the acquisition of solid knowledge of yoga therapy applied to daily practice. Don't miss the opportunity!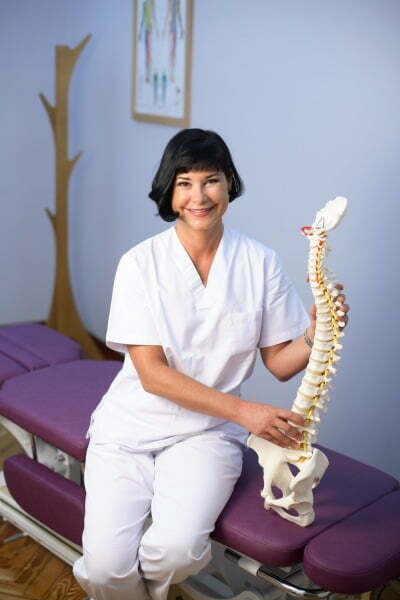 But what really is therapeutic Yoga? What puts the spotlight? In cure, not to damage, help, relieve...? Asked directly to Isabel Morillo:
Yoga therapepharmacist is above all yoga - Isabel explains, because that, since its inception, and in all respects, the pra.practice of yoga has always been linked to health, balance and the harmonyifiSICA, mental and emotional, for body, mind and espiRitu are one unit. Hatha yoga or yoga fiBasic, by using the body coMO vehiass, can be of great help to alleviate or balance imbalances fiBasic and psicofimusicians, coMO comes is widely demonstrated in numerous scientific studiesigraphics and dissertations during the ulast tonOS".
He said however, that yoga therapepharmacist is a "Western invention"...
It is not ningu(n) 'new yoga'; ES the explanationorcurrent n of the Anatomia and the Biomeca.only applied to yoga. This knowledge provides the qualified yoga teacher a valuable work tool, because it will allow you to apply the tetechniques of yoga to a pupublic ma.broader, adapting the pra.practice conditions fieach person basicin many cases by relieving disorders and imbalances of the appliance musculoesqueleTico, corMO adjuvant, and in other cases, avoiding unnecessary risks.
For example, postural source pain are not any actual disease, but we can fight them by applying the vectors stretch or tonificaciormuscle n appropriate in each case.
How outstanding professional yoga applied to health, what importance assign you to that a teacher has knowledge of therapeutic Yoga?
The course of yoga therapepharmacist that began in September has corobjective Mo yoga teacher provide a general knowledge and updated about of structural problems and functional ma.frequent s and yoga exercises suitable and contraindicated in each case. The Anatomia and the Biomeca.only applied to yoga are fundamental to understand whate We face in each case, in an honest and effective manner within our field of actionorn.
What are the objectives of the training that begins in September? Will students who pass the course know to deal with health problems that are in their own classes?
Yoga now has the support and trust of society in general, supported by the media of communicationorn and many health professionals. This confidence gained it with its good make and excellent results for many tonYou teachers of yoga with a broad background of knowledge. This course offers the possibility to expand and clarify knowledge look increasingly ma.s sued socially: coMO is the role of yoga in the maintenance of health and the preventionorn.
The course, opportunity to deepen
The 2014 course training in Yoga therapy (level 1) you intend to customize the practice of therapeutic yogausing different tools yoga offers us.
Training is directed at qualified teachers of yoga that is a ¨postformacion¨-even though it may be of interest to practitioners who wish to deepen in yoga therapy.
The goal is that all students at the end of the course be able to pass through experiential practice this learning and that this experience will provide them the knowledge necessary to be able to use them for the benefit of others.
Practices to be developed are a rational combination of the biomechanical, physiological aspects, energy and psychic.
Development and learning is designed that it can be applied both to beginners as veteran students.
What prepares you: offers specialized training in the area of the health sciences, in the field of the techniques of yoga: Yoga Therapy Monitor.
Career opportunities:
1. alternative medicine centers.
2 yoga centres.
3 gyms and sports centres.
Summary agenda
I general Anatomy
-Bones, muscles, joints, tendons, ligaments, fascia
-Muscle contraction and the nerve impulse
-Planes of movement
II. the spine
-The cervical, dorsal and lumbar spine
-Types of vertebra, function, and physiological curvature
-The intervertebral disc
-The movement of the spine
-Neck.
III. the pelvis
-Pelvic bones
-Pelvic ligament system
-The muscles of the pelvis, movement and alignment
IV. upper extremity
-The bones of the shoulder
-The articulation of the shoulder, elbow and hand
-Muscles, movements, and alignment
V. lower extremities
-The bones of the legs. The knee. The foot
-Joints and ligamentari system
-The muscles of the legs, movement and alignment.
Anatomy applied to yoga
-Back muscles: latissimus dorsi, rhomboids, trapezoids, Elevator of the scapula,
transversoespinales, serratos, erectores's column, quadratus lumborum, psoas, iliac.
-Abdominal muscles: oblique, straight transverse, abdominal.
-The muscles of the upper extremities: deltoid, rotator cuff, arms,
thorax, neck.
-Muscles of the lower extremities: tensor of the Tin fascial, psoas, adductors and abductors of
Hip, external rotators of the hip, quadriceps, Sartorius, hamstrings, twins, soleos.
-Muscles of the foot.
Physiology and physiopathology general applied to yoga
I. the bodily systems: nervous, endocrine, immune, lymphatic, circulatory, respiratory,
urinary, player.
II. General disorders and yoga: stress, hypertension, migraines, depression, flu, colds, fever...
III. special cases and yoga: elderly, pregnancy, surgery...
IV. Yogay cancer, diabetes, obesity, irritable bowel syndrome, coronary heart disease, lung diseases and Neurology.
V the nervous system, muscle tone, sensations, balance, Defense neuromuscular postural reactions. Parkinson, multiple sclerosis, stroke, peripheral Neuropathies, disorders of the ear, Alzheimer's disease.
VI. Yoga and disorders of the musculoskeletal apparatus:
Disorders of positional origin
Scoliosis
Pathologies discs, muscles, and joints.
Osteoporosis
Arthrosis
Arthritis
Most common diseases and disorders in: upper extremities, neck, back and lower extremities.
Associate Professor: Isabel Morillo.

Osteopath, specialist yoga therapy and yoga teacher, Director of the center of Yoga and osteopathy Argüelles in Madrid.A career wide cas a professional of the teaching of yoga, add their knowledge and experience how orsteopata (upper titled natural therapies, specializing in osteopathy by the Royal Centre University Escorial - María Cristina, Madrid). It is also one of the few people that Professor Calle Ramiro has awarded the title which recognizes it as a classic Yoga teacher. She is the author of the Facial Yoga book, Ed. RBA Integral). Author of several books, articles and publications.
Dates, times and place of training 2014 matches
Day and time: one Saturday a month for half a year, hours of 10.00 to 15.00 with a small intermediate rest.
September 20, 2014
October 25, 2014
November 22, 2014
December 20, 2014
January 17, 2015
February 16, 2015
Where: The course will take place in the Centre of Yoga Padmasana Center, C / sea of Oman, 34
More information cost of the course, payment options and qualifications:
http://www.padmasanacenter.com/docs/yogoterapia2014.pdf

Did you like this article?
Subscribe to our RSS so you don't miss anything