Kinds of Yoga Online 6: Hatha Yoga Free Style
Nos complace presentar la sexta práctica de yoga producida por la Escuela Internacional de Yoga que
Yoga network
ofrece como regalo exclusivo a sus lectores. Se trata de una clase completa de Hatha Yoga Free Style guiada por el profesor Jose Ferrer.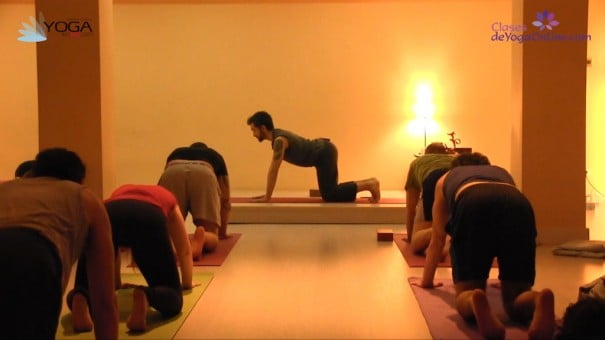 Comenzamos la práctica de yoga con el Pranayama Nadi Sodana, un ejercicio de respiración alterna que está destinado a purificar y armonizar nuestro cuerpo. Consiste en respirar por una fosa de la nariz alternando el lado izquierdo con el derecho.
Prepararemos el cuerpo con unas vueltas de Surya Namaskar con variantes, hasta energizar el cuerpo con algunas posturas de pie.
Compensaremos la sesión con flexiones hacia delante e invertidas.
Hatha Yoga Free Style
Estas clases son la propuesta general de la Escuela Internacional de Yoga. Un yoga integrador que ha sabido combinar lo mejor de cada estilo con la propia forma de entender la práctica desde la sensibilidad, la conciencia, la precisión y el respecto al proceso gradual de cada persona.
Combina el ejercicio físico, la relajación, la respiración y la interiorización generando estados conscientes de profundo bienestar físico, emocional y mental.
Mira más clases de Hatha YogaFree Style in: http://www.clasesdeyogaonline.com/category/estilos/free-style/
El profesor: Jose Ferrer
Cuenta este profesor: "Mi experiencia en Yoga se enriquece por el aporte de distintos puntos de vista, escuelas y maestros. Desde la sensibilidad del Yoga Dinámico, la precisión de Yoga Iyengar o la perspectiva y profundidad del Yoga de Satyananda, entre otros, me ayudan a enriquecer, integrar y desarrollar tanto mi propia práctica como mi manera de transmitir.
Vivo el Yoga como un acto de compromiso, entrega, humildad y aceptación, único. Por ello es muy importante para mi hacer ver a los alumnos que, más allá de la práctica física, Yoga nos enseña, propone e invita a conectar con nosotros mismos y la forma que tenemos de relacionarnos con el mundo".
This kinds of Yoga platform has been created recently by the international school of Yoga to get the learning and practice of the Yoga wherever you are.

Each week it incorporates classes of different styles with different objectives, so that you can move into your practice.

You can choose practices short of 30 minutes and complete more than one hour classes, as well as several levels that adapt to your practice. Also you can practice meditation and Mantras.

Sign up for free to get access to complete various kinds of welcome. Click on: Free registration

Headquarters:
Calle de Fuencarral, 134
(input by * Albuquerque *)-28010 Madrid
Tel.: 914 16 68 81 – 648 07 88 64 / info@escueladeyoga.com
www.escueladeyoga.com

www.escueladeyogaonline.com

Madrid - Barcelona - Elche - Mallorca - Santiago - Cadiz - Latin America
Did you like this article?
Subscribe to our RSS so you don't miss anything