Gentle Yoga with Olivia Cáttedra
Yoga Suave es el yoga "para todos los públicos", inspirado en las enseñanzas del sabio Vasistha. Nos lo explica Olivia Cattedra, doctora en Filosofía especializada en Estudios Orientales, que nos obsequia con algunos versículos del
Hatha Yoga Pradipika.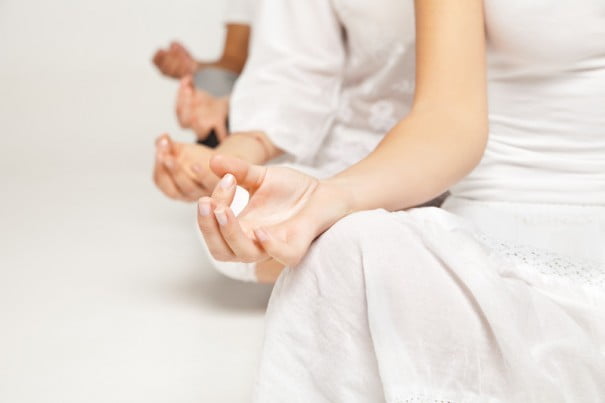 Nos hemos inspirado en las enseñanzas del sabio Vasistha, referido al comienzo del Hatha Yoga Pradipika, para formular lo que nos dio alegría denominar 'Yoga suave'. Aclaro que suave no es light; es solo suave en el sentido de apto para todo público.
Después de 38 años dando clases de Hatha Yoga (respiración, asanas, concentración, relajación y lectura de textos sagrados) aprendí que no todo el mundo puede hacer todas las asanas y menos las "asanas modernas" tan controvertidas. Pero todos podemos respirar, y a través de la respiración y relajación modular nuestros condicionamientos mentales, que son otro nombre más occidental para una de las funciones del karma de arrastre. Vasistha decía: "Por el control respiratorio o por la observación de las huellas (vâsanâ) la mente deja de ser la mente (y entonces la conciencia puede comprender sin el tamiz nublado de la mente)".
Las cuatro indicaciones específicas del Yoga Vasistha, que en rigor es un apéndice del Ramayana como lo es el Bhagavad Gita of the Mahabharata, son:
Vinculación prâna-manas y la consiguiente debilitación de las vâsanâ.

Lectura de libros sagrados.

Wise men and loved company.
Do not get angry is.
Veamos algunos versículos para propiciar la reflexión y la autoreflexión:
1. "La conciencia que no está dividida, se imagina objetos deseables y corre tras ellos. Es entonces conocida como la mente".
2. "De este Señor Supremo omnipresente y omnipotente surgió, como rizos en el agua, el poder de imaginar objetos separados".
3. "Igual que el fuego nacido del viento es extinguido por el mismo viento, así aquello que nace de la imaginación es destruido por la imaginación misma".
7. "Es la naturaleza de la mente aceptar ciertas cosas y rechazar otras; esto es esclavitud, nada más."
9. "La mente es la causa de (es decir, produce) los objetos de percepción. Los tres mundos dependen de ella. Cuando se disuelve, el mundo también se disuelve. Ha de ser curada, esto es purificada, con esfuerzo…",
Tres temas permanentes de la India vedanta y budista: El mundo como efecto de la mente, la imaginación y el sueño. Continuemos:
10. "La mente es esclavizada por las impresiones latentes (vâsanâ). Cuando no hay impresiones, es libre. Por consiguiente, Oh Rama, lleva a cabo rápidamente, a través de la discriminación, el estado en el que no hay impresiones…".
El ya mencionado debilitamiento de las vâsanâ:
11. "Igual que una nube ensucia (es decir, parece ensuciar) la luna o una mancha de tinta, una pared enyesada, así el mal espíritu del deseo mancha al hombre interior".
12. "Oh Rama, aquel que con mente introvertida ofrece los tres mundos, como yerba seca, en oblación al fuego del conocimiento, deviene libre de las ilusiones de la mente…".
El camino de la entrega y conocimiento, la identificación amor/conocimiento, tema clásico en el hinduismo medieval:
13. "Cuando no conoce la verdad real acerca de la aceptación y del rechazo y no piensa en nada sino que mora en sí mismo, abandonándolo todo, su mente no viene a la existencia…".
Aquí, la superación de la dualidad:
16. "La mente es samsara, también se dice que la mente es esclavitud; el cuerpo es activado por la mente igual que un árbol es agitado por el viento…"
Seminarios de Olivia Cattedra
En torno a estos temas desarrollaré dos seminarios en Madrid.
El seminario fundamental, más largo, teórico y práctico de Hatha Yoga Suave, sábado y domingo 22 y 23 de febrero:
Where: Escuela de Yoga de Las Tablas. C/ Isabel Colbrand 10-12 (Las Tablas) 5ª planta, local 131, Acceso por Alfa III – A1. Madrid
http://www.escueladeyoga.org/index.php/component/k2/item/159-22-y-23-febrero-2014
Y como complemento y a nivel de asistencia, libre y gratuita, la parte filosófica en Bindu el 1 de marzo.
Who is Olivia Cáttedra

PhD in philosophy specializing in Oriental studies. Conicet researcher in the Area of comparative philosophy and history of religions. A founding member of the ex-Colegio of orientalists of the Republic Argentina. Author of 45 articles and ten books on their specialty (philosophy of the India and China), including: Asana inside, principles and techniques of gentle Yoga, Epimeleia supplements; Upasana, Treasures of the India; Hatha Yoga in Yoga, Ed. South graphics; Yoga and the soul,principles and techniques of Yoga soft II, Editorial Suarez; Tantra and Yoga, Publishing Suarez; Images and symbols of the truck in East and West; The crack of Karma: interlecturas of the Bhagavad Gîtâ and Yoga sutra.
Did you like this article?
Subscribe to our RSS so you don't miss anything