Celebration of the Christmas in the EIY
Un día completo de yoga, alegría y fraternidad. Anótalo en tu agenda: sábado 21 de diciembre. Ven a celebrar la Navidad con prácticas de yoga placenteras y diferentes en la Escuela Internacional de Yoga.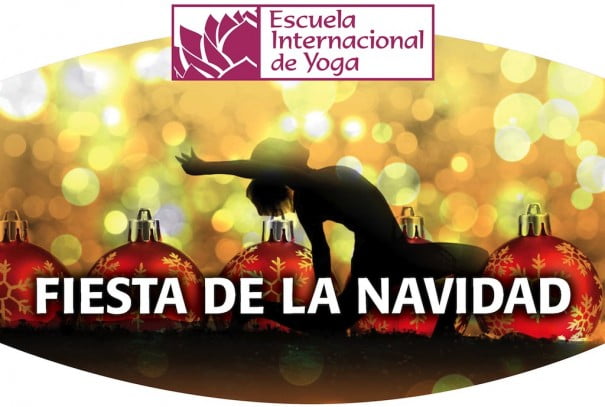 La Escuela Internacional de Yoga propone este día para celebrar la Fiesta de la Navidad, una celebración muy especial, que contará con clases de yoga, canto de mantras, Yoga Nidra y un pequeño picnic.
Con la participación especial de Mayte Criado, directora de la Escuela internacional de Yoga y gran conocedora del Nada Yoga (el Yoga del Sonido) quien dará un pequeño recital.
Program
La fiesta empieza a las 10: 20 con una ceremonia (puja) a la Navidad celebrada por Swami Krishnananda.
De 12:30 a 13:30 Hatha Yoga Free Style con Marta Martínez.
De 14:00 a 15:00 Picnic. Todos traeremos algo de comida ovo-lacteo-vegetariana para compartir entre los asistentes.
De 17:00 a 18:00 Yoga Nidra con Marta Martínez.
De 18:30 a 19:30 Flow Vinyasa Yoga con Juan Carlos Pedrosa.
De 20:00 a 21:00 Concierto Canto Místico con Mayte Criado.
Actividad gratuita (es necesario reservar plaza, plazas limitadas).
Where: Sede Goya. Calle Hermosilla 102, bajo derecha
Information reservations: telf. 639 228 874, email: goya@escueladeyoga.com

Headquarters:
Calle de Fuencarral, 134
(input by * Albuquerque *)-28010 Madrid
Tel.: 914 16 68 81 - 648 07 88 64
www.escueladeyoga.com

www.escueladeyogaonline.com

Madrid - Barcelona - Elche - Mallorca - Santiago - Cadiz - Latin America
Did you like this article?
Subscribe to our RSS so you don't miss anything