Master Class / instructions in a yoga class
Manuel Luque is Deputy Director of the international school of Yoga and the on-site Yoga teacher training coordinator. It is the main responsible for that future teachers out with a very advanced knowledge of what is to be correctly in asana and how to convey the kind of clear and accurate instructions.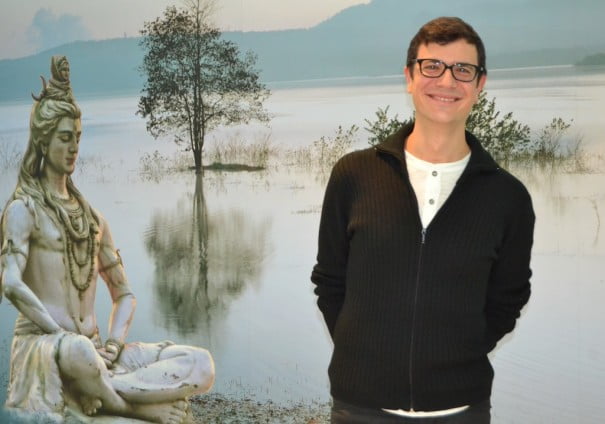 Professor and master of Hatha Yoga in the international school of Yoga and certified by the International Yoga Federation, the European Yoga Federation and the Spanish Federation of Yoga professional. He began his training as a Yoga Instructor at Yoga Center, entitled by the Asociación de Profesores de Yoga Sananda. It's Pilates Instructor certified by Kabat and chiropractor.
He has followed teachings of Iyengar Yoga and Ashtanga Yoga. It is also formed in "Respiratory Kinetics" in anatomy courses for the movement of Blandine Calais-Germain; Nothing and Hatha Yoga with Mayte Criado in the international school of Yoga; and Yoga Nidra with Habib Ba. Their passions, already in its current phase of specialization, are the Pedagogy of Yoga and also the Yoga therapy.
Manuel says: "took ten years at the international school of Yoga, and as" Coordinator of the training of teachers, about four years. I've gotten to know quite deeply the purpose of what the EIY tries to transmit and deliver. The evolution of the training is always continuous, integrating new aspects, possibilities and ways to convey to the student, in the most direct way, based on our experience and knowledge of yoga".
As Deputy Director of the school, Manuel Luque does very directly the processes of personal communication with the students of training teachers of Yoga (second level). "Professor has developed a way to refer to the student direct asana, find their space."
Highlights Manuel that this holds a high responsibility. "Teachers are transmitters of a millenary science and tools that must be adapted to the needs of the students of today, that can come with very high levels of stress or physical ailments. "It's creating a space of well-being within the internal chaos we all to some extent".
Teacher training students must find this means of communication with your future students. "There is a structure to guide the positions with" clear and precise instructions. That you can not miss, so asana does not contribute anything that goes against the student, or articulate it or in the muscle. But we can not get us there. Through the instructions should also create a the State of consciousness. That is a process that has been consolidating over the years, but I try to plant the first seed from the beginning,"says Manuel Luque.
"To a teacher, that is something very valuable - follow Manuel - because it is what the student is going to take home every day." Are you won't remember if the foot should be put it in one way or another, but what happened in class and the feeling that takes".
Pedagogy of yoga
It is the role of Manuel Luque: teach lead asana correctly. "Because during the training that the student has to understand is that there are guidelines to be followed to leave among future class at least equal to that he came, that will not be injured or more stressed." We want students who attend class to feel the space between its input and its output has helped him find himself and his inner peace. This seed is trying to sow in the training is the focus of the Steering and transmission of asana".
What are you looking for students, what are concerned when they think about their future work as teachers?
"They still do not have the tools of experience that gives you the teaching of yoga, and need them to be able to move around freely in the class. First are those tools to give answers to those who have some kind of medical condition, How to adapt to a class with a certain level of knowledge. Your demand is always this. "And my message is that is, of course, but also have a broader view, because the practice is something integral concerning all aspects of the self, and not only the physical".
"But that 'something more' - continued explaining, Manuel, i.e. how to carry the student from a yoga class to" the encounter with himself, is not written in any manual; the experience of the teacher is which reflected in its class. Why every yoga class is so different as each teacher puts itself to bring the student to that 'something else'. Clear, first thing is to get the tools to get to the student from the more accessible level, which is the body. Other more subtle planes is reached with experience and the filming of every day".
What are the strengths of the international school of Yoga in teacher training?
"Our strength is that the student comes out with a" very advanced knowledge of what is to be correctly in asana and how to transmit the instructions clearly and accurately, so that future students who attend their classes generate that knowledge and intuition in their own bodies. "Of course, the other philosophical and subtle aspects are very present, because they are strong pillars of the school".
"Our greatest satisfaction is when the students confirm that being in class you know at all times what is happening because we are transmitting it in a clear and direct manner. Which leaves no room for uncertainty or improvisation. "What we discussed teachers trained in the school is that you always have that same feeling to know at all times what is happening in the class".

Headquarters:
Calle de Fuencarral, 134
(input by * Albuquerque *)-28010 Madrid
Tel.: 914 16 68 81 - 648 07 88 64
www.escueladeyoga.com

www.escueladeyogaonline.com

Madrid - Barcelona - Elche - Mallorca - Santiago - Cadiz - Latin America
Did you like this article?
Subscribe to our RSS so you don't miss anything