Malignant with body of men Elves
He vuelto a ver en televisión cómo de nuevo se ha lanceado a un toro en Tordesillas. Uno no puede quedarse indiferente ante tan malvada atrocidad. Escribe Ramiro Calle.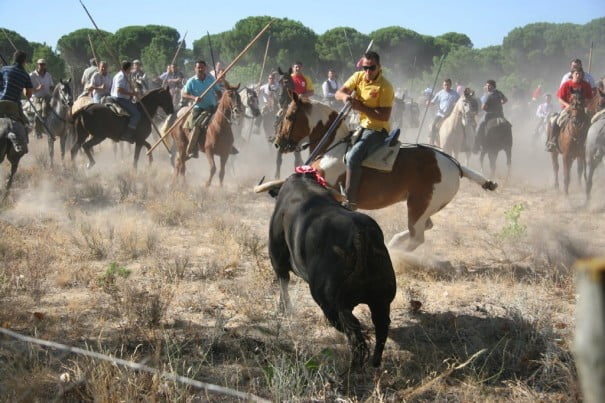 Fue el sabio indio contemporáneo Ramesh Walsekar quien habló del "dudoso privilegio de haber adquirido un cerebro humano". Me identifico plenamente con esta declaración cuando compruebo con inmenso dolor y vergüenza lo que los denominados seres humanos (que en realidad son homoanimales, con lo peor muchas veces de las bestias) pueden llegar a hacer. Con razón Freud resaltaba a propósito de sus dos perros chow cow (que le acompañaban en las sesiones de psicoanalisis) que eran mucho más nobles que los hombres. ¡Qué sentimientos siniestros tienen aquellos que por divertirse maltratan a los animales!
Esas gentes no son de fiar y todo el poder de la ley debería reacaer sobre ellos para reprimir o castigar sus malas acciones. Hoy veo en televisión cómo de nuevo se ha lanceado a un toro en Tordesillas. Uno no puede quedarse indiferente ante tan malvada atrocidad. Pero ¿qué tipo de mente tienen esos que disfrutan viendo sufrir así a un animal y sometiéndole a una espantosa agonía? Solo le pido a Dios que sea lo suficientemente misericordioso para no mezclarme nunca con ese tipo de individuos que degradan la condición humana hasta límites increibles.
¡Y que un acto de tal salvajismo lo permitan las autoridades competentes con la morbosa excusa de la tradición! Ya quisieéamos ser civilizados como los animales, como cantaba Roberto Carlos. Se me llena el corazón de profunda pena cuando compruebo hasta qué punto muchos de los llamados seres humanos no tienen nada de ello y son duendes malignos arropados con un cuerpo de hombre.
Si siguen sucediendo estas cosas en España y se siguen abonando en aras de la "gloriosa" tradición hechos tan lamentables como éste, es que nuestra sensibilidad es miserable y está por los suelos. Ausencia total de compasión quienes los hacen y ausencia total de compasión quienes lo permiten. Yo me niego a perdonarlos, porque sí saben lo que se hacen y van a seguir haciéndolo.
Calle Ramiro

More than 50 years has been Calle Ramiro teaching yoga. He began teaching at home and created an Academy of yoga correspondence for all Spain and Latin America. In January of l971 opened its Yoga Center Shadak, that have already passed more than half a million people. His 250 published works include more than fifty devoted to yoga and related disciplines. He has made Yoga the purpose and sense of his life, having traveled a hundred times to India, the homeland of yoga.

Watch the Calle Ramiro Facebook:
https://www.facebook.com/pages/Ramiro-ACalle/118531418198874
Did you like this article?
Subscribe to our RSS so you don't miss anything