Book: Quiet and attentive like a frog
Los niños de hoy suelen ser inquietos y dispersos. A algunos les cuesta conciliar el sueño, otros están incluso estresados. ¿Cómo ayudarlos a calmarse y relajarse? ¿Cómo lograr que se concentren en lo que hacen? La meditación es una herramienta sencilla y eficaz. Lo explica este libro.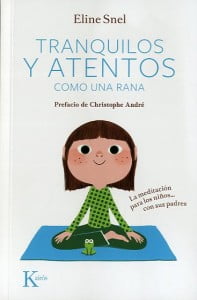 Quiet and attentive like a frog (editorial Kairós) ofrece historias y ejercicios simples y breves que los niños podrán practicar a diario. Está dirigido a niños de 5 a 12 años y a sus padres, que pueden acompañarlos en su práctica. Incluye un CD con meditaciones guiadas.
La autora, Eline Snel, ha basado sus técnicas en el método de mindfulness desarrollado por Jon Kabat-Zinn. Los resultados han demostrado que los niños que practican estos ejercicios duermen mejor, están más concentrados y serenos y se sienten más seguros.
Eline Snel es una terapeuta holandesa que ha desarrollado un método de meditación específico para los niños. Fundadora de la Academia Holandesa para la Enseñanza de la Atención Plena, imparte cursos de capacitación para maestros, psicólogos, padres y niños. Las ventajas del método que ha implementado son tales que el Ministerio de Educación de Holanda ha decidido ofrecer esta formación a todos los maestros que lo deseen.
«Los efectos son visibles: los niños se sienten más seguros, duermen mejor, son más amables. Los maestros, que también dicen sentirse mejor, constatan un ambiente más tranquilo en clase, más concentración y una mayor apertura.», se dijo el periódico Le Monde.
«El mildfuness es la aptitud de la mente para prestar atención a lo que hay, aquí y ahora, estando totalmente conscientes de cada momento que vivimos. Representa la base de numerosos enfoques meditativos, en los que aprendemos a protegerlo, a desarrollarlo y a consolidarlo. Estudios científicos recientes han resaltado su eficacia, y cada vez es más utilizado en medicina y en psicoterapia», comenta Christophe André en el prefacio del libro.
Quiet and attentive like a frog se ha traducido a varios idiomas y la edición francesa lleva vendidos 30.000 ejemplares.
Actos en paralelo
Próximos actos que tendrán con motivo de la publicación del libro con presencia de la autora:
—26 de septiembre a las 19:00: Presentación en la Casa del Llibre
Place: Rambla Catalunya, 37, Barcelona Presentan A. Torrijos y Agustí Pániker, editor.
—27 de septiembre de 17:35 a 19:30: Taller de mindfulness para niños
Place: Jonqueres, 8, esc A bajos – 1, Barcelona Para profesionales de la educación y de la salud infantil.
Did you like this article?
Subscribe to our RSS so you don't miss anything