VII Congress of Yoga of the Costa del Sol
Of the 20 to the 22 of September is celebrates in Marbella, in the Palace of fairs and congresses, the seventh edition of the Congress of Yoga of the coast of the Sun, with the participation of the Professor international of yoga Ximena Gutierrez.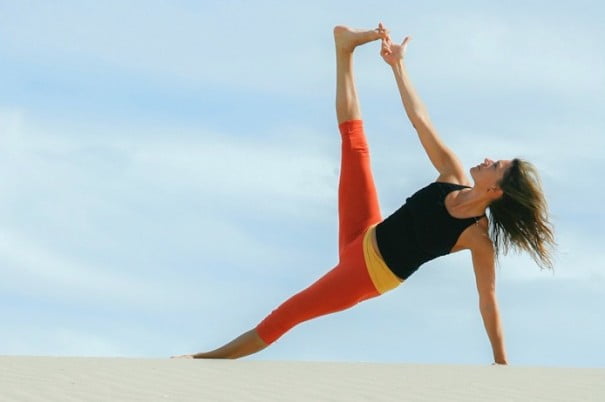 Coinciding with the end of the summer, the town Malaga is converted again in the greater point of find to level European of practitioners, professional and lovers of this form of understand the life with 40 centuries of antiquity that is the yoga.
Su promotor original, Victor M. Flores (alter ego de Senge Dorje) y creador del Instituto de Estudios del Yoga, centro de difusión de esta disciplina, reúne en esta convocatoria a mas de 40 profesores, artistas, músicos e intelectuales de este "movimiento hacia la liberación y la conciencia".
El congreso es free e independiente de linajes, escuelas o federaciones.
Como es habitual, contará con la presencia de Calle Ramiro, autor de más de 200 obras y cuya colaboración con Flores ha culminado en la edición de Donde meditan los árboles, libro publicado recientemente por la editorial Arco Press.
Además en esta edición se contará con la presencia de la profesora de yoga Ximena Gutierrez, nicaragüense del mundo y profesora de yoga certificada por el linaje Jivanmukti y del metodo Khalsa Way de técnicas prenatales, que impartirá dos talleres.
Habrá dos salas para aquellos que se acercan por primera vez al yoga, y también se habilitarán espacios para impartir talleres más delicados como rehabilitación, yogoterapia o yoga para niños. En otras salas, el practicante más asiduo y con más experiencia también encontrará su espacio para poder disfrutar de profesores de distintos linajes y escuelas, compartiendo una misma raíz que une lo que las rama separan. Son las dos salas multinivel.
En la sala de Meditación habrá un encuentro con el yoga de la mente, así como conferencias y mesas redondas.
El salón de actos será el protagonista de un encuentro con la música, el espectáculo, la danza, la poesía y donde Ramiro Calle clausurará el Congreso del año 2013
The program
Sala 1: Master
Viernes 20
17.00- 18.00 Chris Lavalle, Argentina (meditación creativa risoterapéutica)
18.00-19.00 Sylvia Shazadi, España (Taller de danza del vientre)
19.00-20.00 Christine Mc Ardle Oquendo, USA (Om Shree Om)
Sábado 21
10.30-12.00 Carola Polo, España (Método Iyengar)
12.00-14.00 Ximena Gutierrez, centro Buen Karma-Nicaragua (Jivamukti yoga: el camino del guerrero espiritual)
16.00-17.30 Javier Castro, España (Vinyasa Flow avanzado)
17.45-19.15 Victor M. Flores, Instituto de Estudios del Yoga-España (Diseño de asanas y coreografia en la sadhana)
19.15-20.30 Ramiro Calle, España (Conciencia, autodesarrollo y meditación)
Domingo 22
10.30-12.00 Lori Sjollema, España (Hatha yoga inspirado en Anusara Yoga) *ingles, traducción simultanea
12.15-13.45 Petra Lindros (Vinyasa flow)
Sala 2: Multinivel A
Viernes 20
12.30-13.30 Antonio Damian Requena (Estiramiento de cadenas musculares)
17.00-18.00 Kirsty Wells (Yoga bugs) * en ingles
18.15- 19.30 YoyYoga (Kundalini Yoga)
Sábado 21
10.30-11.30 Patricia Sanagu (Anusara Inspired)
11.30-12.30 Esperanza Fernandez Lago (Yoga de los meridianos)
12.30-14.00 Jacqueline Girardin (Shakti Sadhana)
17.00-18.30 Miriam Aguilar Marín (Equilibrando los cinco vayus)
18.30-20.00 Jose Gelices (Ashtanga Yoga)
Domingo 22
10.30-11.30 Lucas Benet (Anusara Yoga)
12.00-13.30 Ximena Gutierrez (Al vuelo)
Sala 3: Multinivel B
Viernes 20
12.30-13.30 Marta Rubio Castejon (Taller de hatha yoga)
17.00-18.00 David de la Calle Gebele (Yoga de la Calle)
18.15- 19.30 Merlyn Mantilla (Kundalini Yoga)
Sabado 21
10.00-11.00 Sergio Aragón Aranda (Yoga Profundo)
11.00-12.30 Noelia Gomez (Rehabilitación del suelo pélvico femenino)
12.30-14.00 Anand Rudra (Antiguo Tantra Kriya Yoga)
17.00-18.00 Belinda Christensen (Yoga&Music)
18.15- 19.30 Alicia Sanchez (Evolución y Esencia)
Domingo 22
10.00-11.00 Cayetana Rodenas (Rainbow Kids Yoga)
11.10-12.30 Escuela Sivananda Internacional (Asanas, pranayama)
12.30-13.30 Silvia Jaen (Shiva Yoga)
Sala 4: Meditación y conferencias
Viernes 20
18.00-19.30 Sat Tek Kaur (Mujer, yoga y estres)
Sabado 21
10.15-12.00 Grupo de meditación de Amma (Meditación de los 108 nombres de Amma)
12.30-14.00 Miguel Angel Cueto (Descodificación emocional)
17.00-18.00 Chris Lavalle (WaterYoga)
18.15- 19.30 Marcel Pierlet (Volviendo a casa: nuestra mente vedántica)
Domingo 22
11.00-12.30 Dhanya Ruiz (Bioenergética: El cuerpo blando como camino)
12.45-14.15 Caitayacandra Das (Bhakti yoga)
Auditorium
Sabado 21
11:30-13:00 El congreso dentro del congreso. Mesa Redonda: La pedagogía y el yoga, Christine Mc Ardle Oquendo
13.45-14.30 Kinnara (Concierto de mantras)
18.30-19.15 Javier Molero (Sangita Yoga)
Domingo 22
11.15-12.15 Asociación Ecológico-Cultural "Jñana" (Hatha yoga y musica flamenca)
12.30-13.15 Ad-Dunia (Danza del vientre)
15.00-18.00 Clausura: concierto de Amayama y conferencia de Ramiro Calle, Ximena Gutiérrez y Vicctor M.
More information:
Did you like this article?
Subscribe to our RSS so you don't miss anything