Yoga in good company
Mientras yo hago la postura de la torsión, para desbloquear toda la espalda y ejercer masaje sobre todos los órganos abdominales, el yogui
Emile
practica, como nadie, la postura de relajación conocida como Postura del Cadáver, pues exige máxima inmovilidad para poder soltar todos los músculos y encontrar un estado de alerta serena o sosiego atento. Escribe Ramiro Calle.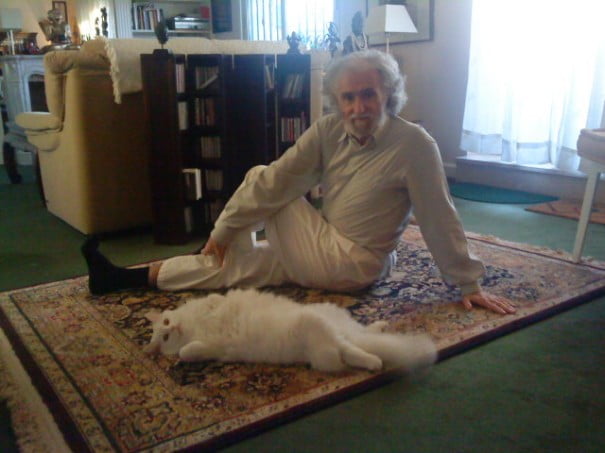 Tras mi sesión diaria de asanas, yo le imitaré y la cerraré entregándome a la relajación, que es sin duda una medicina natural extraordinaria y sin ningún tipo de contraindicación, y además para todas las personas cualquiera que sea su edad y tanto si están sanas como enfermas.
As Emile sabe de sus excelencias, no deja de practicarla y ha adquirido en la misma una sagacidad extraordinaria. Mi neurólogo y gran amigo Antonio Tallón (que descubrió el yoga a la misma edad que yo: a los 15 años) ya me dijo un día a propósito de Emile: "Es como usted, pero percibe más que usted".
Los misteriosos gatos tienen muchos dones y uno de ellos es saber estar muy atentos y a la par muy relajados, o sea que practican el denominado mindfulness (atención total) de la manera más natural. Por eso, y por el amor que transmite, es un gran compañero de práctica. Además no le distrae a uno hablando y si emite un suave maullidito es como un mantra que ayuda a interiorizarse.
Thank you Emile, al final te convertirás, si es que no lo eres ya, en mi guru.
Calle Ramiro

More than 50 years has been Calle Ramiro teaching yoga. He began teaching at home and created an Academy of yoga correspondence for all Spain and Latin America. In January of l971 opened its Yoga Center Shadak, that have already passed more than half a million people. His 250 published works include more than fifty devoted to yoga and related disciplines. He has made Yoga the purpose and sense of his life, having traveled a hundred times to India, the homeland of yoga.

Watch the Calle Ramiro Facebook:
https://www.facebook.com/pages/Ramiro-ACalle/118531418198874
Did you like this article?
Subscribe to our RSS so you don't miss anything