First meeting of Hindus of Spain
Los días 8 y 9 de junio se celebró en Madrid el Primer Encuentro de Hindúes de España. El encuentro tuvo lugar en el templo Jhulelal, un templo hindú que mantiene la comunidad sindhi, mayoritaria entre los indios residentes en España, y que cedió sus instalaciones desinteresadamente.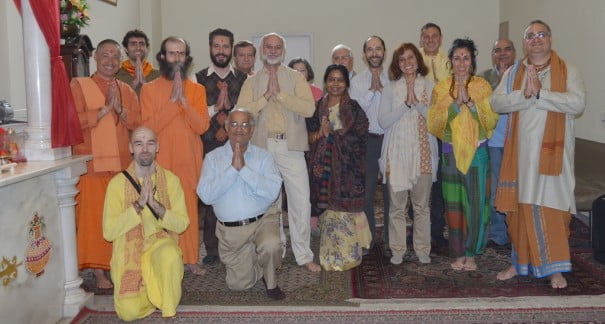 El encuentro fue organizado por el sacerdote hindú Juan Carlos Ramchandani (Krishna Kripa Dasa), hijo de padre indio y madre española. La mesa estuvo compuesta por seis personas destacadas, pertenecientes a varias corrientes dentro del hinduismo: Juan Carlos Ramchandani, Swami Omkarananda Sarasvati, Swami Satyananda Sarasvati, Javier Ruiz Calderón, Oscar Montero and Alvaro Enterría.
El hinduismo se caracteriza por admitir en su seno —donde conviven en paz— muchas corrientes distintas, con diferentes concepciones y prácticas pero con visiones convergentes. El hinduismo también admite plenamente la validez de las demás grandes religiones como caminos para acercarse a la última realidad o Dios.
En el encuentro se expusieron diversas ponencias y se debatieron diversos temas y problemas que conciernen a los hindúes españoles. Se hizo hincapié en que, aunque el hinduismo proviene y está enraizado en la India, muchas personas occidentales siguen actualmente con seriedad ese camino espiritual, por lo cual es necesario distinguir entre hindú o hinduista (seguidor del hinduismo) e indio (habitante de la India).
Entre los objetivos del encuentro figuran:
Crear una federación de entidades y organizaciones religiosas hindúes.

Obtener el reconocimiento oficial del hinduismo por el gobierno español, junto con el certificado de "notorio arraigo".

Ser un punto de encuentro entre los hindúes asiáticos y los españoles.

Promover una visión correcta sin distorsiones ni prejuicios del hinduismo.

Crear una plataforma de trabajo común sobre diversos temas relacionados con el hinduismo.
Persona de contacto: Juan Carlos Ramchandani (sacerdote hindú)
Móvil: 638 738 662
E-mail: ramchandanijc@gmail.com
Blog: http://jcramchandani.blogspot.com.es/

Did you like this article?
Subscribe to our RSS so you don't miss anything