Interview with Lauren Imparato: "It is a dream to share yoga in an urban space"
Viaja constantemente impartiendo macroclases en nombre de su estudio neoyorkino I.AM.YOU. El pasado sábado condujo en Madrid una master class ante 1.500 personas organizada por FreeYoga by Oyshio. Charlamos con esta conocida yoguini.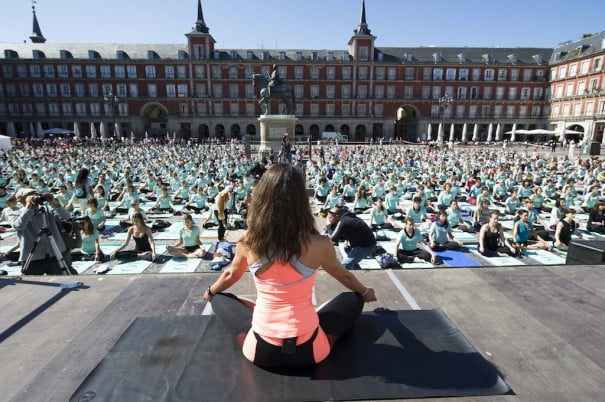 ¿Cuál es tu principal motivación para dar estas macroclases en grandes ciudades?
Mi pasión es el yoga, unir y compartir con gente. Con FreeYoga y clases similares en grandes ciudades hay la posibilidad de compartir, sudar, y estar juntos de una manera que la vida moderna y urbana ya no pone tan fácil. En I.AM.YOU. definimos yoga como unión. FreeYoga es la unión de la gente de una ciudad, codo con codo, y de la gente con su ciudad y su cultura, y, claro, de nosotros con nosotros mismos, cuerpo y mente. Poder compartir este yoga en un espacio urbano y crear unión, paz, y felicidad en una ciudad es un sueño.
¿Cómo te sientes al dar una master class ante miles de personas? ¿Cómo te preparas?
¡Te sientes increíble! En serio, poder impartir estas clases es un sueño! La preparación del evento viene de la mano de FreeYoga y Oysho, y mi preparación es la práctica de yoga día tras día a lo largo de los años. Una práctica diaria te ayuda a ser mejor profesor, y te ayuda a sentir y compartir energía en una clase de miles de personas.
De todas las aportaciones que hace el yoga a las personas, ¿cuáles destacas?
El yoga te da energía, ayuda a tu digestion, pero lo más importante para mi: te ayuda crear tu ser ideal en tu mundo ideal, dándote los recursos, la energía y la perspectiva para afrontar cualquier desafío y salir adelante, mejor que antes. En una palabra: vivir.
¿Cuáles son sus próximos proyectos?
¡La vida! Hace poco saqué 14 videos de I.AM.YOU. yoga que se pueden bajar en http://vimeo.com/ondemand/iamyoustudiospanish y hacer en casa (7 en inglés y 7 en español) y estoy escribiendo un libro. Tengo una clase en el Governors Ball, para abrir el fin de semana de conciertos en NYC el 7 de junio, y otras al aire libre por Nueva York este verano. ¡Y ,claro, enseñar en el estudio de I.AM.YOU. en NYC!

Did you like this article?
Subscribe to our RSS so you don't miss anything