The battle that we do not choose
Este ensayo fotográfico se titula: "La lucha de una mujer contra el cáncer de mama". Hay una historia humana detrás y un aprendizaje del que enriquecernos. Puedes ver toda la serie fotográfica en el enlace que encontrarás más abajo.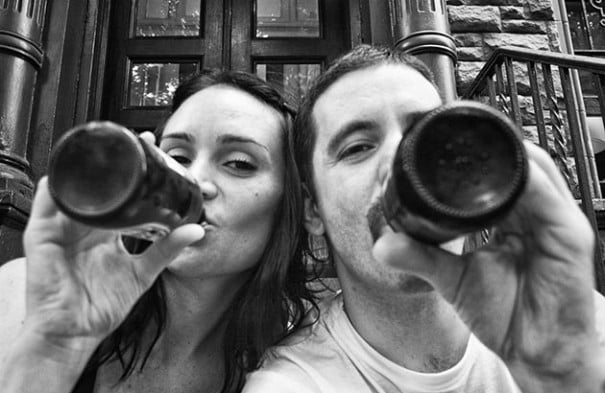 When Angelo Merendino vio a la que sería su esposa, Jennifer, tuvo la sensación de que compartiría toda su vida con ella. Cuando reunió fuerzas, le dijo cuánto la amaba. Para suerte suya, ella también le amaba. Así empieza esta hermosa historia de amor, que siguió con un rápido matrimonio. Cinco meses después de la boda, a Jen le fue diagnosticado cáncer de mama. El recuerdo de aquel momento, los olores, los sabores y aquel sentimiento agrio fue algo que siempre envolvió la mirada de Angelo. Entonces ella le dijo: "Estamos juntos, y vamos a estar bien".
Cada prueba, cada dolor, era un desafío en el que tuvieron que aprender un lenguaje que se basaba en la miradas. Jen le enseño a mirar, a amar, a escuchar, a dar y sobre todo a creer en los milagros. Para él, los cinco años que duró la lucha contra el cáncer de su mujer fue el tiempo más feliz de su vida.
La batalla que vivieron nunca la habían elegido, pero fueron conscientes gracias a los grupos de apoyo de las dificultades cotidianas de vivir con el cáncer. El cáncer de mama es el más extendido y mortal entre las mujeres. Jen a los 39 años ya iba en andador, estaba agotada y llena de hematomas de la quimioterapia. La tristeza y la desesperación eran frecuentes. Batallas con las compañías de seguros para cubrir los medicamentos, el miedo, la ansiedad, las nuevas esperanzas, la decepción.
Un relato necesario
Lamentablemente la gente no quiere leer historias de estas realidades, y hasta cierto punto lo entiendo. Creemos que la vida no tiene nada que ver con la muerte, pero este artículo es un homenaje a los supervivientes del cáncer que han compartido y comparten estas luchas. A la gente que asume los riesgos de hacer tratamientos pioneros y seguir llevando una vida "normal". Pero no hay nada normal en el cáncer. Los enfermos de cáncer tienen que definir un nuevo sentido de sus vidas, y a diario se preguntan: ¿Cómo podría contarles a los otros lo que tengo que vivir cada día?
Jen le pidió a Angelo que fotografiase todo su proceso, para mostrar la vida cotidiana del cáncer, humanizar el proceso… ponerle cara a la bestia. Estos retratos que veréis a continuación muestran el reto, la dificultad, el miedo, la tristeza y la soledad a la que se enfrentan los que luchan contra esta terrible enfermedad. Y lo más importante de todo, cómo podemos mostrar nuestro amor. Estas fotografías no definen el cáncer, sino nuestra capacidad de ser "nosotros mismos" en cualquier circunstancia, de estar presentes.

El cáncer está en las noticias del cada día, y quizás a través de estos retratos la próxima vez que un desconocido te pregunte qué puede hacer, simplemente le escuches. La respuesta poco importa, simplemente un poco de empatía y comprensión serán bastante.
Puedes ver toda la serie fotográfica en http://mywifesfightwithbreastcancer.com/
By Koncha pines-Pey

Did you like this article?
Subscribe to our RSS so you don't miss anything