By the aires with Yoga Unnata
Instead of a block or a belt you will use a hammock as support for your positions reversed. And you it will pass of cinema... or of circus, without leave of doing Yoga. Its promoters say Unnata not replace Yoga, but rather support it.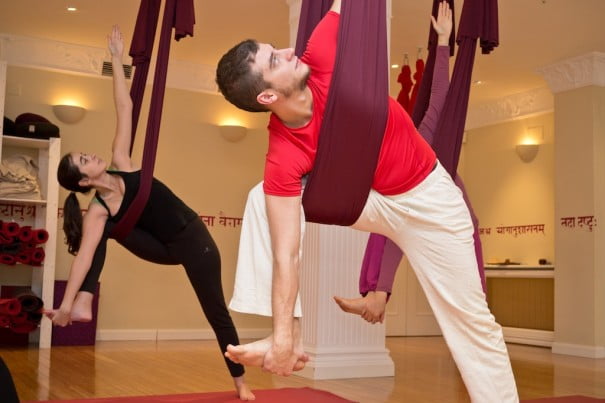 Michelle Dortignac, founder of Unnata® Yoga air in 2006, was installed in 1991 in New York to study dance and yoga. In 2002, Michelle begins to learn the circus art of fabrics. Practice in studies of circus, and in the recognized center of Yoga Dharma Mittra, culminating their studies in this style of yoga: Yoga air Unnata, emerged from the study on the movement and the meditation.
Montse Lominchar directs the Center Yogasadhana (Ciudad Real), collaborates with Centroterapia (Madrid) and from July 2012 provides Unnata aerial yoga training courses. Montse deepened in Yogaterapia, yoga for children, yoga of the laughter, air, the stretching of the monasteries Hindu, the meditation. "Not is because me bored of what you already know, but rather by fascination." "One of my teachers, Harold Sequeira says: Yoga is like the ocean, can look at it from the sand, get wet feet, swimming on the shore or immerse yourself in deep waters". And here is Montse, swimming a few times in the surface, others diving towards it deep, but enjoying of it experience.
Montse discovered air Yoga online, interested from the beginning. "I got in touch with the three schools available, and was Unnata which conquered me. Felt in Michelle the spirit of the Yoga, nothing ' gimmicky ' or competitive. "In mayo's 2010 traveled to New York to learn this fascinating discipline".

The qualities of Unnata
Unnata Yoga is a new Yoga that uses a fabric hammock to help practitioners in their traditional asanas. It is not replace the classical Yoga, but rather, support it. The practitioners rely, total or partially, the weight of the body on the hammock.
As in other styles, a kind of Unnata identifies areas of the body that are chronically stressed and it's freeing those areas of tension. The result is the relaxation of the system nervous, as in a class traditional. As at this, in Unnata practice pranayama, meditation, mantras... and all the techniques that make up the Yoga.
The difference is the hammock; This facilitates that many practitioners that not can do positions reversed (by injury, by lack of ability or strength) can experience their benefits, especially the decompression vertebral favoured by the download in suspension. "Many aerial positions are designed to help the practitioner to better understand the alignment and the effects of the traditional positions, others to help them with advanced postures - says Montse-. With Unnata get something more than simple stretching. Different ways of combining the body into the fabric support and the force of gravity to improve flexibility and strength and forging a breath deep, comprehensive. "This breath reinforces an attitude quiet and serene, increasing our flexibility mental, being this one of the purposes of the Yoga".
Montse says Unnata approach is yogic and inspiring. The integration of the hammock in class serves to increase the benefits of asanas, in comparison with other air methods more focused in the hammock and "flying" and that Yoga is in the back. "Unnata helps us in the postural alignment through relaxation and consciousness, rather than demand. It improves the traditional Yoga, does not replace it."

For serious fun
And this register a method of doing yoga is not something strange? Montse says: "Unnata is mark registered, but not franchise." Unnata are not who must adapt, you are free to adapt it to your own personal way to practice and teach, your style of yoga. Not there are dogmas, payments and obligations of marks over... The only commitment is maintaining the quality required for the masters Unnata".
You can practice Unnata in Ciudad Real Madrid, Bilbao, and Terrassa, "but we continue to grow." For what kind of people is indicated? "Everyone can practice it, especially if you are looking for expanding self-awareness and motivation. But there are those who gets excited, people who take fun seriously. There is a certain age but children, experts in live fully, love."
Also warn that has all the contraindications that exist for the practice of asanas reversed or of high tension muscle. Why a professional orientation is required.
And what would the defenders of orthodoxy in Yoga? "You would say that it test-answers Montse-." The mind has its ideas and beliefs, but without the experience, only with the ' idea', we were short. B.K.S. Iyengar also used accessories (ropes, bricks, belts...) that help to a better understanding and adjustment of the asana. Many people, also the more Orthodox, used cushions or Bank for your meditation, which facilitate and promote their practice. In my opinion, until the master is an ' accessory ' of help, useful but not essential. "Any support or help that serve to awaken the consciousness should be welcome and considered".
Two courses in preparation

There are projected two Unnata courses for teachers of yoga in Spain. One in Madrid and another in City Real.

More information: Center Yogasadhana.

C / Ramon y Cajal 4, 1º B. 13001 City Real.

Tel. 926 67 07 85 / 600 58 23 81 www.yogasadhana.es
Did you like this article?
Subscribe to our RSS so you don't miss anything