Manual of yoga for Westerners
This book exposes the origins and the evolution of the yoga, and explains of way simple them technical basic and its purpose to who begin to guide is in the intricate world of styles and schools yogic.

Editorial: Alianza


Price: €16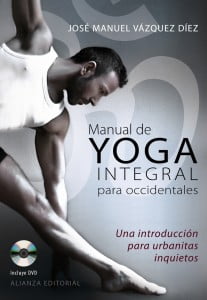 Tranquilidad para todos: es un texto en el que se ha prestado especial atención al equilibrio entre tradición y contemporaneidad. Para aquellos urbanitas inquietos, el yoga es un modo de estar en forma, física y mentalmente, pero sin duda el mejor modo de encontrar sosiego y recuperar energía y lucidez, y también una excelente herramienta de reflexión y toma de conciencia de uso diario.
Todo el mundo puede hacer yoga, pero es preciso encontrar la manera que mejor se adapte a cada persona. Hay escuelas tradicionales que por intentar conservar la esencia del yoga se han quedado desconectadas de las circunstancias que condicionan nuestra sociedad. Y no son menos las que enseñan un tipo de yoga principalmente aeróbico que no incide en la conciencia corporal ni en la observación de uno mismo que requiere esta disciplina.
A partir de esta guía preparada por José Manuel Vázquez Díez, el lector encontrará un adecuado equilibrio entre tradición y contemporaneidad y podrá disfrutar de los beneficios físicos y mental es que la práctica de yoga proporciona. El DVD que se incluye ilustra los principios básicos a través de los siguientes ejercicios:
Alignment and breathing.

Un repaso breve a las nociones básicas de alineación y tipos de respiración que nos ayudarán a prestar atención a la ejecución de los ejercicios.

Saludo al sol básico.

Práctica que reúne los pasos fundamentales en los que estructuramos las series que forman la práctica del Saludo al sol.

Saludo al sol con variantes de apertura.

Serie de ejercicios que partiendo del Saludo al sol ponen su atención en los arqueamientos y la liberación de las articulaciones.
The author

José Manuel Vázquez preside desde el año 2001 la Asociación Shiva-Shakti de Yoga Integral. Es profesor certificado por la organización estadounidense Yoga Alliance; director de la formación certificada de profesores de yoga integral; miembro de International Association of Yoga Therapists y profesor reconocido por la Asociación Española de Practicantes de Yoga y la Asociación Nacional de Profesores de Yoga.

Ha participado como técnico especialista en la elaboración de la cualificación profesional del yoga para el catálogo nacional de cualificaciones profesionales aprobada en julio del 20011 por el Consejo de Ministros. Lleva más de 18 años ejerciendo su profesión en diferentes medios. Desde el año 2001 dirige su propia escuela de yoga.

Blogger invitado en la revista Harper´s Bazaar, donde disecciona el mundo de la cultura y la sociedad desde una perspectiva "yóguica", y compositor y editor de música ambiental enfocada a la relajación y la exploración interior.
Did you like this article?
Subscribe to our RSS so you don't miss anything