Resounding success of the VII you are more peace
El Palacio de Congresos de Madrid se llenó hasta la bandera el 30 de septiembre: casi 2.000 personas reunidas en torno a la paz.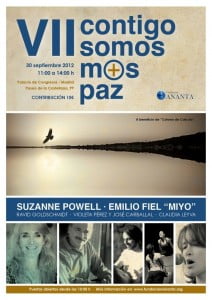 A la paz y a los mantras cantados por Claudia Leyva; las charlas inspiradísimas de Emilio Fiel "Miyo" y Suzanne Powell; el mágico sonido del hang de Ravid Goldschmidt; el ashtanga yoga y la poesía en movimiento y voz de Violeta Pérez.
Gracias a todos ellos se creó una atmósfera maravillosa desde el comienzo, abriéndose con un OM colectivo, y cerrándose con el broche de una meditación a cargo de Marta Matarin.
La organizadora de esta convocatoria por la paz que año a año va ganando repercusión es la Fundación Ananta, con el inestimable concurso del Centro Sivananda. La entrada, que costaba 10 euros, iba destinada a Colores de Calcuta, el programa de cooperación al desarrollo en India que es uno de los objetivos principales de la Fundación Ananta.
Escuchemos un momento a Miyo:
"Por mucho que hagamos para conseguir la paz, da igual porque no puede ser conseguida a través de la voluntad y del esfuerzo. La paz, el amor, la felicidad, la libertad no se pueden conseguir por mucho que te esfuerces; en realidad son ellas las que te alcanzan cuando dejas de creer que hay algo exterior a ti que te lo puede dar. Estos son regalos del espíritu, no algo que pueda conquistarse asaltando los cielos o a través de nuestros deseos personales".
"La paz es una conquista mística, interna, que exige que estemos en armonía con nuestros propios corazones, que hayamos dejado de perseguir cosas externas. En realidad la paz, como el perfume de las flores, es una cualidad de nuestro ser. Cuando dejamos que el espíritu guíe nuestra vida y simplemente descansamos en lo que somos, la paz llega. Es un regalo de quien tiene su mente en calma, su corazón en armonía y su cuerpo consciente".
"Hay que entender que la vida tiene que ser amada en su luz y en su oscuridad, porque al caminar por ella creamos luces y sombras sin remedio, pero todas nos enseñan. Nuestros maestros son aquellos que nos han mostrado su lado más negativo, y hasta que no les amemos de verdad nunca encontraremos la paz. En ese espacio sagrado del corazón está la transformación que necesita este mundo".
Suzanne Powell nos llevó en su meditación al vientre de nuestra madre, donde tenemos todo lo que necesitamos: calor, amor, seguridad. "Sabes que tienes una nueva vida por delante y libre albedrío. Vas a elegir todas aquellas cosas que desees experimentar en esta vida. Has dejado el anterior traje que llevabas puesto en otra vida, ese experimento que te sirvió para crecer".
"Pero ahora tienes una nueva oportunidad para formar parte de esta nueva humanidad. Siente: soy perfecto, soy feliz, creo en mí, sé que voy a disfrutar de otros seres como yo que venimos a jugar en el patio de la vida, en ese recreo de niños inocentes. Me doy permiso para ser yo mismo con todas las consecuencias, para enfadarme, para mostrar frustración, y agradezco tanto este regalo de vida…".

Did you like this article?
Subscribe to our RSS so you don't miss anything